Oil rig fire in Gulf of Mexico extinguished, no pollution reported (VIDEO)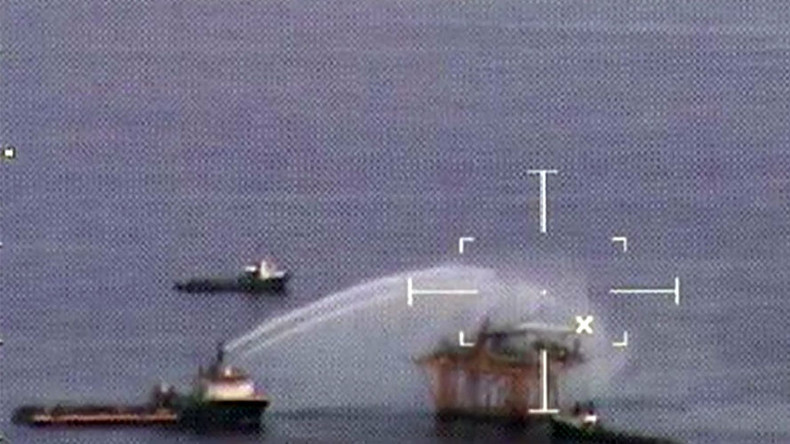 An oil production platform in the Gulf of Mexico, about 80 miles from Grand Isle, Louisiana, erupted in flames early Thursday morning. The blaze was extinguished after about four hours with no injuries to crew members, the US Coast Guard said.
No pollution has been reported, but a team of investigators is traveling to the scene to asses the situation.
The fire on a rig owned by Renaissance Offshore LLC began at around 2:30am local time and was finally quashed by four offshore supply vessels at about 6:15am, the Coast Guard reported.
Four people aboard the rig sought refuge in the water and were rescued by an offshore supply vessel. None of the crew reported injuries the Coast Guard said, adding that an investigation of the the cause is underway.
The Coast Guard has not received reports of pollution caused by the fire, Coast Guard Petty Officer Third Class Travis Magee told AP. Clean Gulf, an industry-associated organization that assists with oil-spill response, is en-route to the scene, the Coast Guard said in an earlier statement.
Grand Isle, Louisiana, is the site of some of the worst devastation as a result of the BP Deepwater Horizon oil spill in April 2010, that unleashed more than four million barrels of oil into the Gulf of Mexico. Marking the anniversary of the spill in 2015, Grand Isle Mayor David Camardelle told WGNO that he routinely found tar balls on Grand Isle beaches five years later.
"I get a little emotional," he said. "As long as there's one grain of sand on my beach, I'm gonna make sure it's clean."
You can share this story on social media: