Top 5 disasterous pipeline spills of 2016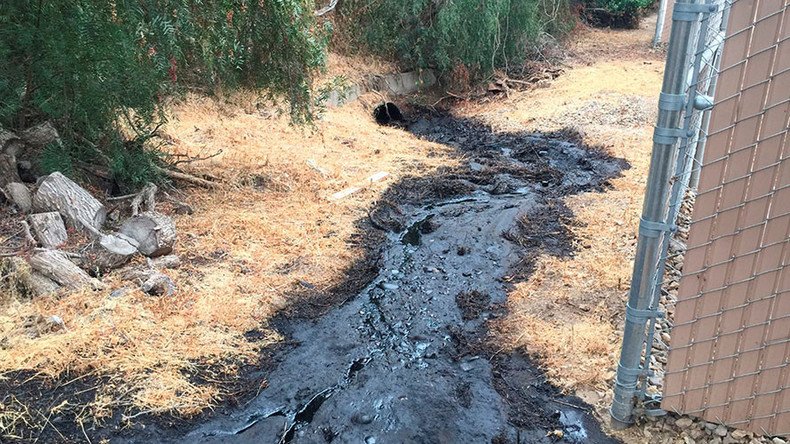 A pipeline spill in North Dakota has been contained after leaking 4,200 barrels of oil. While the 176,400-gallon leak is nothing to sneeze at, it is only the sixth worst spill of the year.
Pipelines became a hot button issue in 2016 after the public awareness grew about the Standing Rock Sioux Tribe's battle against the Dakota Access Pipeline (DAPL), that tribal leaders believed would put their drinking water at risk of contamination from potential spills. Well, they weren't exactly off the mark with that concern.
On December 5, another pipeline 150 miles (241 kilometers) from the DAPL protesters' campsite leaked 4,200 barrels of oil, 3,100 of which reached the nearby Ash Coulee Creek, that feeds into a tributary of the Missouri River, according to Reuters. The Missouri River is a major source of drinking water. The Belle Fourche Pipeline is operated by True Companies.
The leak was contained within hours of its discovery but wasn't detected earlier due to an unknown error with the electronic monitoring equipment. But critics have been quick to point out that this spill is not the worst of 2016. In fact, it only ranks sixth in terms of 2016's pipeline spills.
The battle over the DAPL could potentially reignite under a Trump presidency, and after a year with 354 pipeline spills, it's important to recognize the MVPs of spilling oil in 2016.
#5 Colonial Pipeline: Shelby County, Alabama
On September 9, a portion of the Colonial Pipeline was damaged and 336,000 gallons of refined gas seeped out of the service line into the ground. Oil prices in the Southeast surged and motorists endured long lines and shortages after the leak resulted in disruption and left the pipeline out of service until late September.
The disaster was largely contained, as gasoline was released into a retention pond. There were no deaths or injuries related to the leak. However, the refined gas did head dangerously close to the Peel Creek, a tributary of the Cahaba River, according to the Weather Channel.
"We kind of caught a break with this release," on-scene coordinator for the Environmental Protection Agency's (EPA) emergency response group, Kevin Eichinger, told the Weather Channel. "Right now, the environmental impacts are limited to the flora and fauna in and around those two containment ponds."
However, this would be the last time Shelby County caught a break in 2016, as the Colonial Pipeline would later catch a literal one.
#4 Dixie Pipeline: Sulphur, Louisiana
A fire caused by manufacturing defects in Louisiana resulted in about 208,000 gallons of propane being burned back on February 24. Dixie Pipeline was able to cap the fire quickly, but that left about eight-and-a-half miles of pipe that had to "bleed out," KPLC reported.
There were no deaths or injuries resulting from the leak or fire, and as a result, it occurred quietly with little incident or coverage.
#3 Colonial Pipeline: Shelby, County
Not even two months after the September leak, an accident on the Colonial Pipeline resulted in disaster and, unfortunately, tragedy. Six workers were on the pipeline when a dirt-moving track hoe struck and created a massive fire that left one worker dead at the scene. Another later died of his injuries. The four other workers were hospitalized, and none of the names of people involved have been released, per the Occupational Health and Safety Administration (OSHA).
This explosion released 252,000 gallons of refined oil and occurred just a few miles away from September's leak and also resulted in increased oil prices across the Southeast.
#2 Enterprise Product Partners: Cushing, Oklahoma
The Enterprise Pipeline carries 400,000 barrels of crude oil per day from storage hubs in Oklahoma all the way to refineries on the Gulf Coast. But in October, a pipeline ruptured and sprayed the area with crude oil, a known cause of chemical pneumonia.
There were no injuries or evacuations, so the spill was quietly cleaned up after it leaked some 307,734 gallons of crude oil. The pipeline had experienced problems less than a month earlier, according to United Press International and Plains All American Pipeline had reported infrastructure based problems in early October.
#1 Sunoco Logistics: Sweetwater, TX 8600 (2662 in chart)
The worst pipeline disaster of the year could be one of the least talked about, despite leaking 361,200 gallons of crude oil. The pipeline was just over a year old at the time and numerous news outlets reported only 33,000 gallons of crude oil spilling as a result. However, the Pipeline and Hazardous Materials Safety Administration reported an initial release of 8,600 barrels of crude oil with only 1,560 barrels being recovered.
The company had already been fined for violating welding practices on the line, and federal regulations issued a Corrective Action Order to Sunoco to fix the pipeline, Reuters reported.
Editor's Note: A previous version of this story incorrectly stated that Energy Transfer Partners (ETP) is the owner of the North Dakota pipeline. It is in fact owned by True Companies.
You can share this story on social media: