5.4 miles of creek polluted by North Dakota oil pipeline spill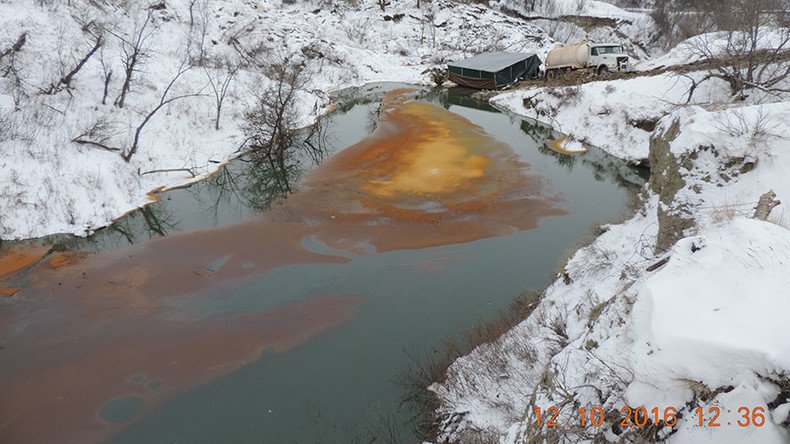 A third of the oil has been cleaned-up a week after a spill the Ash Coulee Creek in North Dakota, up to 5 miles of which were polluted.
"An estimated 4,200 barrels of oil have leaked from the pipeline. Of that amount, 3,100 barrels of oil flowed into Ash Coulee Creek,"said Bill Seuss, a spill investigator with the North Dakota Department of Health.
Seuss said that, as of Sunday, 11,878 barrels of oil had been recovered at the site. Two cows have been reported dead near the site but Seuss said the cause of the deaths is unclear.
The pipeline is about 150 miles from where the Standing Rock Sioux Tribe and other environmental groups have been protesting Energy Transfer's Dakota Access pipeline since April.
During the spill 5.4 miles of the creek was polluted, according to officials. The section of the oil pipeline where the leak occurred has been isolated and the spill has been contained.
"Due to potentially unstable soil conditions at the point of release, the cause of the incident is not yet known," Seuss added.
The pipeline was initially said to be overland but in the latest update it is described as a "buried 6-inch gathering line operated by Bell Farouche Pipeline."
The spill is about 18 miles from the creek feeds into the Little Missouri River, which then feeds into the Missouri, a major drinking water source.
Bell Farouche has hired a remediation contractor that "specializes in cold water oil cleanup."
Frigid temperatures have made cleanup conditions difficult, but has also slowed the movement of oil down the creek because the water has frozen, Seuss told Reuters.
An investigation by federal regulators into the incident is ongoing. It was first reported on December 5.
The 24,000 barrel per day, 6-inch pipeline runs intermittently, and at maximum has capacity to flow at 1,000 barrels per hour, Wendy Owen spokeswoman for True Companies, the pipeline's owner in Wyoming.
Belle Fourche Pipeline Company has reported 12 pipeline leaks since 2010 but not from this particular pipeline.
In 2011, the company reported two major leaks, one that spilled more than 1,900 barrels of refined products Campbell County, Wyoming, and another that leaked 1,000 barrels of crude in McKenzie County, North Dakota, according to Pipeline and Hazardous Materials Safety Administration data.
You can share this story on social media: