Tesla sued over claims of sudden acceleration in Model X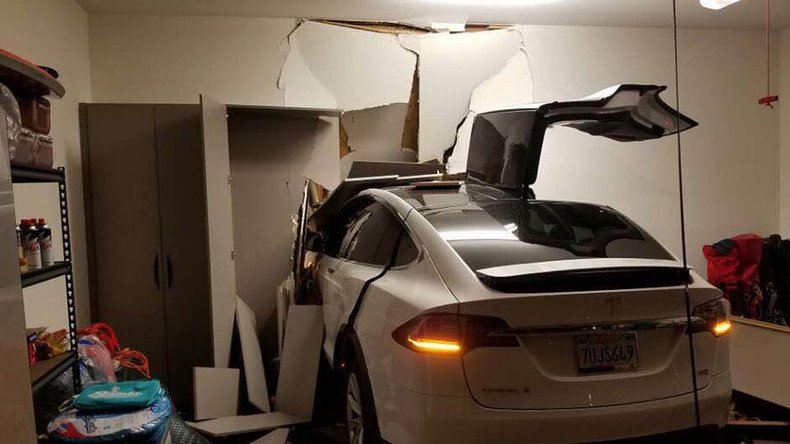 A Model X made by Tesla Motors Inc. spontaneously accelerated as the car's owner attempted to park in his California garage, injuring the driver and passenger, according to a new lawsuit filed against Elon Musk's company.
On Friday, Ji Chang Son, a South Korean actor and owner of the Model X, filed the lawsuit in US District Court in the Central District of California. It seeks class action status, citing seven other complaints to the National Highway Traffic Safety Administration (NHTSA) that involved sudden acceleration by Model X vehicles.
"The vehicle spontaneously began to accelerate at full power, jerking forward and crashing through the interior wall of the garage, destroying several wooden support beams in the wall and a steel sewer pipe, among other things, and coming to rest in Plaintiffs' living room," the lawsuit said, claiming product liability, negligence, and breaches of warranty.
The NHTSA has not verified the complaints reference in the lawsuit, Reuters reported.
On Saturday, Son posted photos of the September incident on Facebook.
The Model X is "defective," Son argued in the suit.
"Tesla has been aware that [sudden unintended acceleration – SUA] events are occurring at a markedly high rate in the Model X, but has not, as of yet, explained the root cause," the lawsuit said. "This made it critically important for Tesla to design and implement an adequate fail-safe system to prevent or mitigate the consequences of SUA. Therefore, the Model X is defective. …"
The lawsuit seeks unspecified damages.
Tesla said in a statement that it had conducted a "thorough investigation" of the incident, blaming Son for pressing on the gas pedal.
"The evidence, including data from the car, conclusively shows that the crash was the result of Mr. Son pressing the accelerator pedal all the way to 100 percent," a Tesla spokesperson said, according to Reuters.
The company has said the Model X, Tesla's first sports utility vehicle, has protections against any erratic pedal application within its autopilot feature.
Last week, dashcam video footage revealed a Tesla vehicle deftly avoiding a dangerous crash thanks to its autopilot system. Tesla's autopilot system has also been blamed in part for other collision incidents, however, such as the May crash that killed a man in Florida when his Model S ran into a truck and trailer while on autopilot mode.
The company has said that autopilot mode is not an adequate substitute for safe driving.
You can share this story on social media: