Tesla autopilot predicts crash moments before it happens (VIDEO)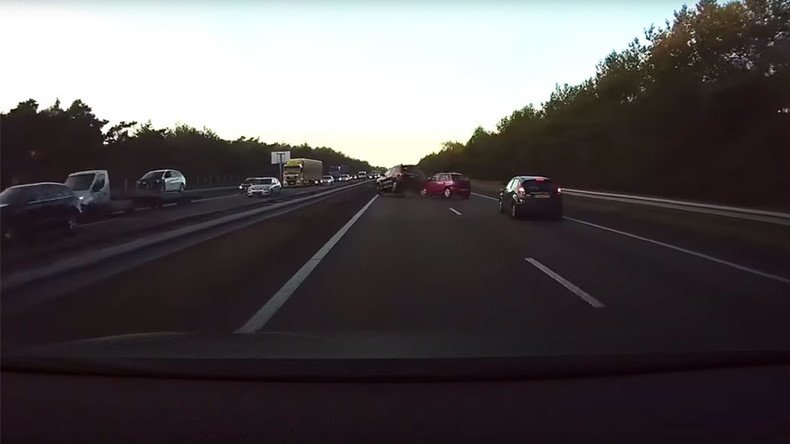 Amazing dashcam footage has caught the moment the autopilot system in a Tesla car foresaw a dramatic crash before it took place.
The collision happened on a motorway in the Netherlands when the car in front of the Tesla sped up to try and overtake an SUV, only to smash into it, sending both vehicles spinning wildly out of control.
However, the video shows the Tesla car warning of the potential collision before it happens.
The driver of the Tesla also said that the autopilot system started braking before he could apply the brakes himself.
Hans Noordsij, who uploaded the dashcam video to Twitter, said "essential, no one could predict the accident but the radar did and acted by emergency braking." Despite the dramatic nature of the crash, Noordsij said that no one was seriously harmed in the incident.
Since Tesla released Version 8.0 of its autopilot system, CEO Elon Musk has touted its potential to save lives. One of the main features of the latest version of the system is the ability to see around cars in front of the Tesla and spot potential problems before they occur.
The dashcam video from the Dutch incident clearly shows the autopilot's Forward Collision Warning sound going off before the crash even takes place.
Despite its apparent ability to see into the future, Tesla has warned motorists that the autopilot system should not be seen as a substitute for responsible driving. Tesla cars have been involved in collisions.
READ MORE: Self-driving Tesla smashes into tourist bus on Germany's autobahn
In May, Tesla driver Joshua Brown, 40, was killed when his vehicle collided with a truck and trailer in Williston, Florida, while on autopilot mode.
"When drivers activate Autopilot, the acknowledgement box explains, among other things, that Autopilot 'is an assist feature that requires you to keep your hands on the steering wheel at all times,' and that 'you need to maintain control and responsibility for your vehicle' while using it," the company said in a blog post following the death.
You can share this story on social media: