'2016 strikes again': Philly zoo euthanizes 25yo lioness for being too old & inactive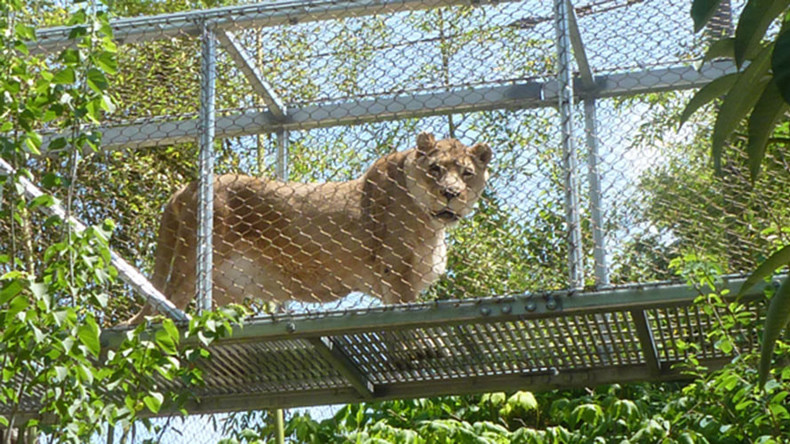 As if our favorite movie and music stars weren't enough, 2016 has managed to cram another death into its busy schedule – that of America's oldest African lion, 25-year-old Zenda, who was euthanized in the Philadelphia Zoo.
"Philadelphia Zoo announced today that Zenda, a 25-year-old female African lion, was euthanized on Thursday, December 29th due to an acute decline in her mobility and behavior," the Philadelphia Zoo said in a statement.
Zenda was the oldest African lion in captivity in the US, the zoo's statement said, adding that she had exceeded "the 17-year typical life expectancy for lions in zoos."
"This remarkable cat will be missed by staff and guests alike, particularly by the keepers who catered to her changing needs as she grew old," said Dr. Andy Baker, Chief Operating Officer at the Philadelphia Zoo.
Zenda was born in 1991 at the Johannesburg Zoo in South Africa and she arrived at the Philadelphia Zoo in 1993 at the age of 2.
"During her many years in Philadelphia, Zenda was one of the Zoo's most loved and most popular animals," the zoo said.
Zenda played a major role in the zoo's innovations and took part in the opening of the Big Cat Falls exhibit in 2006.
"Despite their already advancing age, Zenda and her pridemates were eager explorers of the habitat time-share system allowed by the design of Big Cat Falls when we opened it in 2006. Their engagement was one of the inspirations for our pioneering Zoo-wide trail system concept," Baker added.
People turned to social media to mourn the death of the beloved lioness, writing posts saying "RIP Zenda,""Thanks for all the fun times," and "She never knew freedom. I hope she has it now."
Others took the opportunity to once again slam "deadly 2016," a year which took away many celebrities, including Carrie Fisher, George Michael, David Bowie, Muhammad Ali, Prince, Alan Rickman, and Leonard Cohen. And, in a last gasp, 2016 took Zenda the lioness from them as well, twitterites said.
READ MORE: 'Dear 2016, f*** you!' Social media reacts angrily to string of celebrity deaths
"2016 strikes again. RIP Zenda,""No one was safe in 2016, not even Zenda, the oldest African lion in US," "2016 claims another," they tweeted.
You can share this story on social media: