Florida vandals can't handle satanic pentagram next to nativity scene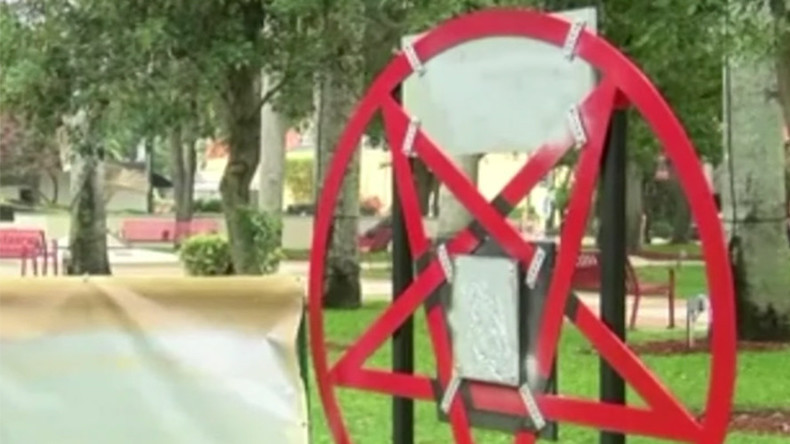 A satanic pentagram erected near a nativity scene and a menorah in a Florida public park has been vandalized three times in recent days. The 10-foot-tall, 300-pound display was built by atheists and approved by the town's officials.
Vandals in Boca Raton attached a chain to the metal pentagram display and dragged it several feet from its base with a vehicle, according to reports. As of noon on December 20, the display lay broken and twisted in Sanborn Square Park amid other holiday displays, including Christian and Jewish messages. Tire tracks lead from the sculpture to a nearby street, AP reported.
Claiming a "freedom to offend," atheist Preston Smith, a local middle school teacher, worked for months with Boca Raton officials to get approval to erect the sculpture, according to the Freedom from Religion Foundation (FFRF), which is backing Smith's efforts. While he is not a believer in Satan, Smith says the display — backed by a banner that says "Keep Saturn in Saturnalias," a reference to a pagan holiday believed to have been hijacked by the early Christian church and replaced with Christmas — is a protest over religious displays on public property.
"We are here to call out Christian hypocrisy and theistic bias in taxpayer-funded public arenas while advocating for the separation of church and state," he told AP. "Our ultimate goal is to return the government to its viewpoint neutral stance so that when an atheist takes a stroll through the park we aren't assaulted by Bronze Age mythology."
The city has said that, while it backs Smith's free-speech rights, which has been reinforced by a Supreme Court decision requiring equal opportunity forreligious symbols in public, it does not endorse his message.
"In years past, the seasonal, religious displays in Sanborn Square have contained messages projecting the themes of peace, forgiveness and harmony," the city said, according to AP. "This display appears to be more about shock value, attention and challenging our commitment to constitutionally protected free speech rather than promoting goodwill, respect and tolerance during the holiday season."
This is the third time the pentagram display has been vandalized since it was erected about two weeks ago, according to Boca Raton police.
FFRF offered a replacement sign once the original was spray-painted and defaced. It had read: "At this Season of the Winter Solstice LET REASON PREVAIL. There are no gods, no devils, no angels, no heaven or hell. There is only our natural world. Religion is but myth & superstition that hardens hearts & enslaves minds."
FFRF is offering a $2,000 reward for information leading to the arrest and conviction of those responsible for the vandalism. The group said it contributed assistance to Smith's initiative to counter religious displays, which have long been supported by town officials.
"If governmental bodies create public forums for religion, there has to be 'room at the inn' for dissenting or minority religious views as well," said Annie Laurie Gaylor, FFRF's co-president.
Religious leaders in Boca Raton, including 14 Christian ministers, two Rabbis, and the head of a local mosque, have criticized the pentagram's placement, calling it a "shameful and hypocritical way to advocate for freedom from religion."
In recent years, the Satanic Temple has fought to include their own holiday display at the Florida state capitol in Tallahassee. In 2014, the group in the capitol erected a cardboard display consisting of a diorama of an angel falling from the sky into hell with an inscription, 'Happy holidays from the Satanic Temple'.