'Snaketivity Scene': Satanists, Christians erect rival holiday displays in Michigan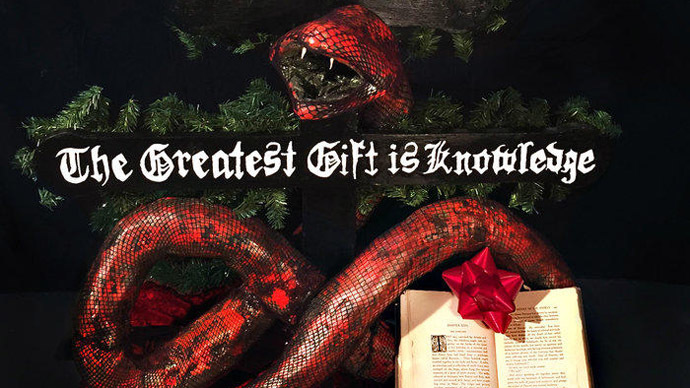 As Christmas approaches, religious rivalry is revving up in Michigan, where the Satanic Temple has put up a controversial display at the Capitol. Christians have followed suit, erecting their own, competing scene.
The Detroit branch of the Satanic Temple has put up what they call a "Snaketivity Scene," in which a snake offers a book titled, "Revolt of the Angels" as a gift. The snake is also wrapped around the Satanic cross.
Despite its name, the group says it doesn't idolize Satan, but instead tries to attract people's attention to individuality, compassion and views that differ from Christian and conservative beliefs, the organization's spokeswoman, Jex Blackmore, told the local Lansing State Journal.
"The holiday season is a time of year that is celebrated in many different ways. Having our government endorse one singular viewpoint or method of celebrating the season is problematic when we have a diverse community of people in Michigan," she said.
.@YahooNews rather than do the right thing, the state concedes to absurd Satanist display rather than admit the religious thing isn't ok.

— Ari Zed ꉲ #WeExist (@RezOKC) December 22, 2014
@YahooNews we have no one to blame but ourselves. We let them flourish

— Jamal86 (@brandonsecret67) December 22, 2014
The group is "really pleased to be part of what is perhaps a new holiday tradition at the Capitol," Blackmore told MLive.com.
READ MORE: Holidays from hell: Satanic Temple wins right to erect 'fallen angel' display in Florida
The Christian community in Michigan instantly reacted to the Satanic temple's move.
State Senator Rick Jones, a Republican from the town of Grand Ledge, erected a Nativity scene on Friday featuring a baby Jesus, Joseph and Mary, and said he was glad to "represent the light and not the darkness," AP reported.
READ MORE: Satanic Temple to distribute materials to school children in Florida
"They could have put theirs up in July or April or sometime. They didn't need to put it up in the Christmas season. That's OK. We're going to ignore them. I'm not afraid of the snake people. I'm sure that Jesus Christ is not afraid," Jones said.
The Michigan display controversy comes shortly after the Satanic Temple won the right to erect a fallen angel display in Miami, Florida. The group also intended to put up the idol Baphomet in Oklahoma.
Last year, the Florida Department of Management Services rejected the proposed holiday display from the New York-based Satanic Temple. The officials said that the display was "grossly offensive."