'You haven't succeeded once': AP reporter grills State Dept on lack of progress in Syria (VIDEO)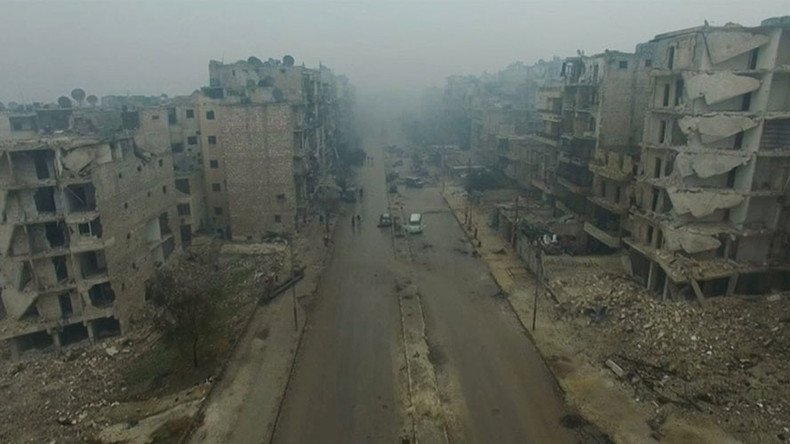 After three years of backing and arming rebels brought no major progress in the Syrian war, Washington has accused Moscow of "failure" to achieve peace. When called out by AP on the lack of progress, the State Department tried to shift blame onto Russia.
READ MORE: 'Lies are their agenda': Canadian journalist blasts MSM Syria coverage at UN event (VIDEO)
The daily briefing at the State Department started off with a verbal sparring match between AP reporter Brad Klapper and department spokesman John Kirby.
Klapper first asked Kirby why the US was "laying all the blame" for developments in Aleppo on Russia, while also questioning what Washington was doing different than Moscow. The US, Klapper said, "failed repeatedly, doing the same thing over and over again" but continued to accuse Russia of war crimes "when things go badly."
"You [the US] haven't succeeded once," Klapper said.
Kirby did not answer the latter of Klapper's questions, instead offering his explanation of why Russia bears responsibility.
"The failure is on Russia for not putting the proper pressure on the Assad regime to stop the brutality, the gassing, the surrender, the starvation of their own people. That's the real failure here," Kirby said, claiming that the US, unlike Russia, has been pursuing only political solutions.
"You don't think the US has failed?" the reporter continued to press on.
Refusing to take any blame for America's actions, Kirby continued to dodge the question.
"You talked about the United States failure. What I would say is the international community has remained focused on trying to bring about a better outcome in Syria," he said, stressing that the US "is a leader in that effort."
Several minutes into the exchange, Kirby would not admit the possibility of the US approach as it is failing to achieve a peaceful solution despite years of attempts.
"Secretary [of State John Kerry] would be the first to tell you that he's enormously frustrated that we are still where we are with respect to what's going on the ground in Syria. Nobody's happy about that," he said, praising Washington's efforts on the diplomatic front.
After his response did not seem to satisfy Klapper, Kirby commented: "Look, you can shake your head in disgust about the answer all you want."
Given that the Obama administration and Secretary John Kerry's tenures are coming to an end in just over a month, Klapper then argued that it was "too late" for any changes to be made.
"You're not describing any different kind of approach or anything you're going to do to somehow change the equation," he said. "It's too late for that. You have no time left and you're saying you're not going to telegraph something that we know is not going to happen."
However, according to Kirby, despite what Klapper or the AP might "feel," Secretary Kerry remains eager to try to find a political solution to the conflict.
Meanwhile, Tuesday night was the "quietest" in months in Aleppo, RT's Lizzie Phelan reported from the city after the Syrian Army backed by Russian forces took full control of militant-occupied eastern neighborhoods in the city. Aleppo was divided between Syrian Army and Kurdish forces, and various jihadist and "moderate" opposition groups seeking to topple the Assad government.
The US first began delivering weapons to rebels in Syria in September 2013. With the State Department coordinating nonlethal aid and the CIA overseeing the delivery of weaponry and other lethal equipment to the rebels, aid started streaming to the rebels after months of Obama's initial promises made in the spring of 2013.
READ MORE: Capture or betrayal? US-trained Syrian rebels with weapons end up in hands of Nusra jihadists

Within a year, Washington's interest in Syria included defeating Islamic State. The new goal came with a new mission, starting September 2014, of arms supplies and training rebels. Since then, the US has faced criticism over its training program and suspicion that its weapons could end up in the hands of terrorists. In October 2015, a Pentagon-trained group of Syrian rebels known as Division 30 reportedly handed over their US-supplied weapons to then al-Nusra terrorists.
In August 2016, a stash of US-made heavy weapons, including anti-tank missiles system (TOW 2A), American UN0181 missiles, as well as US-made 81mm mortars and ammunition, were found in a terrorist-held Aleppo district.
Despite that, US President Barack Obama just recently lifted restrictions on military aid for both foreign forces and Syrian groups, if they are supporting America's alleged effort "to combat terrorism in Syria."
Last week, the US State Department also said that it can't guarantee that the arms it provides to Syrian rebels will not "change hands" and fall into the possession of Islamic State.
READ MORE: 'Madness must end': US lawmakers introduce bill to cut aid & funding for terrorists
You can share this story on social media: