Capture or betrayal? US-trained Syrian rebels with weapons end up in hands of Nusra jihadists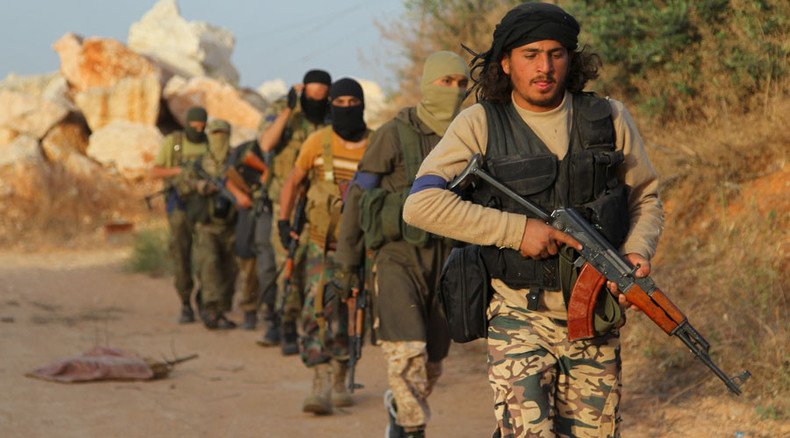 Around 70 US-trained Syrian rebel fighters allegedly surrendered a weapons stockpile to the extremist Jabhat al-Nusra group after crossing the Turkish border. There have been conflicting reports as to whether the recruits betrayed the US or were captured.
READ MORE: Petraeus recipe for battling ISIS: US-protected rebel enclaves in Syria, surge in Iraq
The Telegraph cited sources claiming that the "moderate" rebel group, known as Division 30, had surrendered their weapons to the Al-Qaeda affiliated fighters in Syria.
The British newspaper quoted a Twitter statement from a man claiming to be a member of Jabhat al-Nusra named Abu Fahd al-Tunisi: "A strong slap for America... the new group from Division 30 that entered yesterday hands over all of its weapons to Jabhat al-Nusra after being granted safe passage."
"They handed over a very large amount of ammunition and medium weaponry and a number of pick-ups," he wrote.
Another man, Abu Khattab al-Maqdisi, who also claims to be a member of the extremist group, said that Division 30's commander, Anas Ibrahim Obaid, told Jabhat al-Nusra's leaders that he had tricked the American-led coalition to get his hands on their weapons, according to The Telegraph.
"He promised to issue a statement... repudiating Division 30, the coalition, and those who trained him," Maqdisi tweeted. "And he also gave a large amount of weapons to Jabhat al-Nusra."
Meanwhile, other media reports suggest that the group was attacked, detained, and forced to hand over their weapons.
The UK-based monitoring group Syrian Observatory for Human Rights (SOHR) has confirmed that seventy-five Division 30 fighters re-entered Syria from Turkey early on Monday equipped with "12 four-wheel vehicles equipped with machine guns and ammunition."
READ MORE: 'Complete disaster:' US training of Syrian rebels falters as Kurds prove combat superiority – report
The loss of trainees and weapons is a second major setback for the US-backed program. Last month, the first group of 54 recruits was attacked by Jabhat al-Nusra as they were returning to Syria and several people were kidnapped.
Senior US-trained rebel resigns, says program 'not serious'
To make matters worse, the US-backed program's chief of staff resigned this weekend, blasting the training program as "lacking seriousness."
Lieutenant Colonel Mohammad al-Dhaher said in a statement that there are insufficient numbers of trainees and fighters, poor supplies, and "a lack of accuracy and method in the selection of Division 30's cadres."
According to Dhaher, the training failed to teach even the most basic functions of a brigade, such as "the ability to work" together and "heterogeneity" in terms of the unit's objective. Apparently, the "moderate" rebel fighters had varying understandings of their mission's goal.
The $500 million program has already been heavily criticized. It aimed to produce a force of 5,400-fighters of "moderate" rebels to fight Islamic State (IS, formerly ISIS/ISIL), but a top US General, Lloyd Austin, told Congress last week that only four or five US-trained Syrian rebels are still fighting in the war-torn nation.
Austin also admitted that Washington's program is behind schedule and the military's targets will not be met on time.
READ MORE: 'Everything US & allies do plays into hands of ISIS' (OP-ED)
Finding rebels who have enough combat experience and would not divert their focus to fighting embattled Syrian President Bashar Assad has been one of the the main complications in the US's recruitment efforts.
Austin's statement follows Defense Secretary Ash Carter acknowledgement that the US had only trained an "awfully small number" of Syrian rebel fighters (approximately 60), adding that current vetting procedures were slowing down the training process.
The Pentagon is conducting a broad review of the training program following the string of failures.
The Obama administration announced the initiative last year as a way of creating a ground force to take on IS without having to deploy US forces. The Pentagon has requested $600 million for the program for 2016. The administration's goal is to train 15,000 rebels in three years.
LISTEN MORE:
You can share this story on social media: