Briefing blunder: White House press secretary accuses China of DNC hack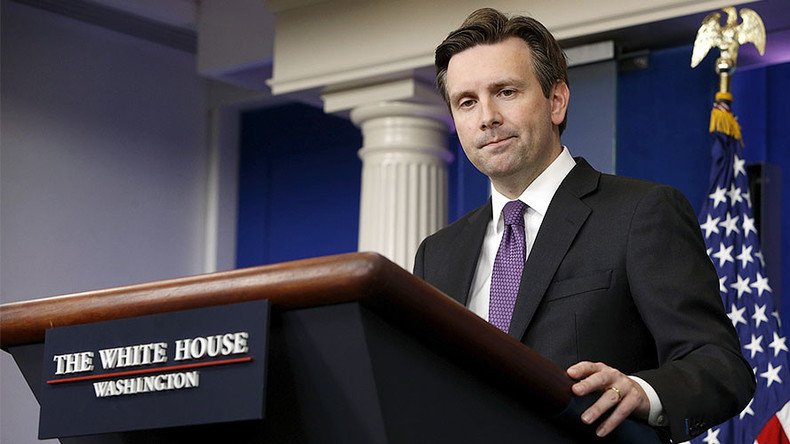 The White House has accused Russia of hacking into the DNC so many times that one might expect press secretary Josh Earnest to have the script memorized by now. But that wasn't the case during a recent briefing, when he accidentally accused China instead.
Earnest was pressed with the usual array of questions during his Monday briefing, including one reporter who asked a two-part question regarding the Democratic National Committee (DNC) hack that Washington has repeatedly blamed on Russia.
The journalist asked Earnest about a tweet from Donald Trump, in which the president-elect stated that it is "very hard" to determine who is behind a hack without catching them in the act.
Unless you catch "hackers" in the act, it is very hard to determine who was doing the hacking. Why wasn't this brought up before election?

— Donald J. Trump (@realDonaldTrump) 12 декабря 2016 г.
In response, Earnest said he has "tried to avoid responding to some of the charges from the president-elect's Twitter feed. And what I've tried to do is just to present objective facts."
However, he then seemed to get the so-called "objective facts" confused, veering away from the White House's usual rhetoric to accuse yet another country.
"I think the objective fact that's relevant here is the intelligence community, a month before the election, came forward and presented a unanimous view, a high-confidence assessment that China was engaged in malicious cyber activity to destabilize our political system," he said.
Not missing a beat, the journalist pointed out Earnest's slip of the tongue.
"You said China. You mean –" the reporter said, after which Earnest immediately cut him off.
"I'm sorry. Russia. Flipping back and forth between topics. Tricky. But thank you for clarifying. But listen, the intelligence community's assessment was unanimous and direct about Russia's malicious cyber activity," Earnest said.
That response was certainly the one that was most expected, as it is consistent with Washington's allegation that Russia was behind the hack – a claim that Moscow has repeatedly dismissed as "nonsense."
Moscow isn't alone in calling Washington's bluff when it comes to the allegations, however. Former US ambassador John Bolton suggested earlier this week that the hack may have actually been a false flag conducted by the Obama administration.
"We have to know the facts here, and it's not at all clear to me, just viewing this and from the outside, that this hacking into the DNC (Democratic National Committee) and the RNC (Republican National Committee) computers was not a false flag operation," Bolton told Fox News on Sunday.
The RNC hack that Bolton referred to was reported by the New York Times, but RNC officials have since said that no such breach took place.
You can share this story on social media: