Abortion activists file lawsuit to stop Texas from enacting fetal burial regulation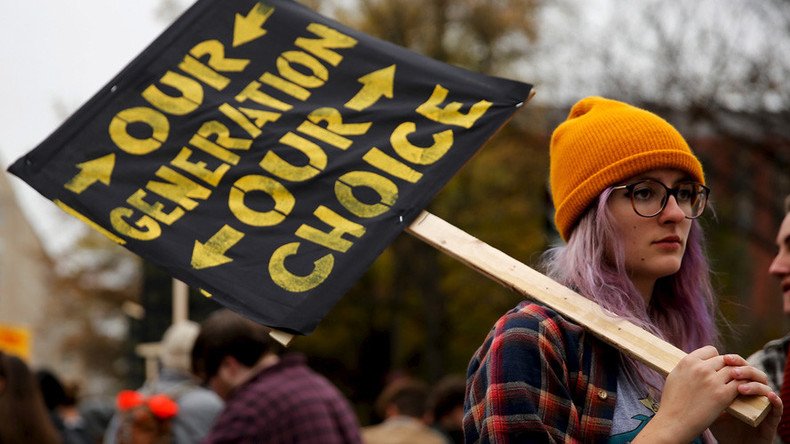 Abortion rights groups want the state of Texas to stop requiring fetal remains to be buried or cremated following pregnancy terminations. Their freshly-filed lawsuit insists the practice will bring "shame" and "guilt" to women.
The suit was filed Monday by the Center for Reproductive Rights, on behalf of several women's health clinics and a Texas gynecologist.
The document calls the regulation – which is due to take effect December 19 – an "unprecedented invasion of women's privacy," claiming it will harm women by causing "trauma, guilt, shame, anger, and feelings of exploitation and violation."
It goes on to state that the regulation is in violation of a landmark Supreme Court decision which struck down a Texas law restricting abortions in June, stating that any limitations on women's access to abortion must provide medical benefit.
"The regulation has no public health benefit. It does nothing to improve public health or safety," the lawsuit reads.
The Center for Reproductive Rights says it would also be expensive to require each fetus to be buried or cremated – a cost that may be passed on to women.
The Center's president and CEO, Nancy Northup, said in a statement that the regulation is an "insult to Texas women, the rule of law, and the US Supreme Court, which declared less than six months ago that medically unnecessary restrictions on abortion access are unconstitutional."
She went on to call the regulation a "new low" in Texas' "long history of denying women the respect that they deserve to make their own decision about their lives and their healthcare."
The regulation was passed by the Texas Department of Health last week, with pro-life Governor Greg Abbott among its supporters. It applies not only to fetal remains from abortion, but also those from miscarriages and ectopic pregnancy surgeries.
The lawsuit comes just one week after Ohio's State House passed a bill which would ban abortion once a heartbeat can be detected in a fetus. The legislation has now been passed to the desk of pro-life Governor John Kasich. Ohio lawmakers also tried to pass a similar fetal burial bill last year, but were unsuccessful.
You can share this story on social media: