'Mocking police brutality': Man stages fake standoff with cops to propose to his girlfriend
Published time: 13 Dec, 2016 00:48
Edited time: 13 Dec, 2016 13:34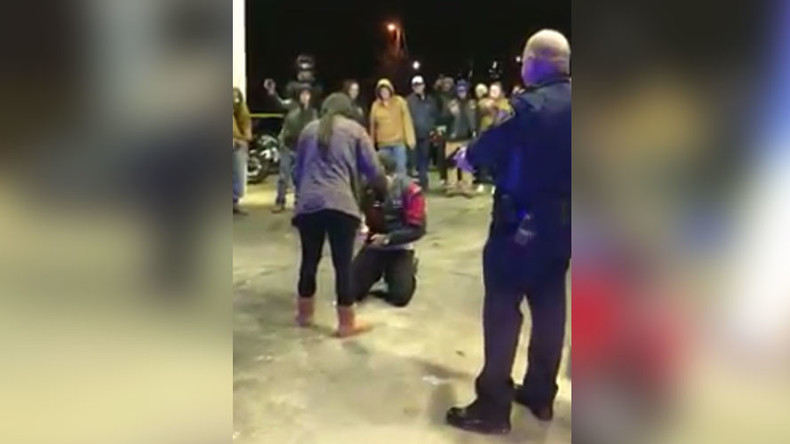 A police brutality-inspired wedding proposal video has gone massively viral online, but some are questioning the message the video sends.
The video features Alabama man Daiwon McPhearson being ordered to get onto his knees by two handgun toting officers from Mobile Police Department. His hysterical girlfriend intervenes and attempts to defuse the situation only for McPhearson to take out a ring and ask for her hand in marriage.
It was posted on Facebook by Tyler Colvin, who said McPhearson "planned his whole day around this proposal so that everything lined up just right."
The post was shared thousands of times over the weekend, including by rapper 50 Cent. McPhearson, who is a tattoo artist, said he had been planning the proposal "since the day she gave me another chance." He later posted several more videos and even screengrabs of a conversation apparently arranging an Entertainment Weekly photoshoot in New York.
That was a terrible, terrible proposal. You don't play with police brutality & Black women like that.

— Gucci Belt Girl (@AsiaChloeBrown) December 11, 2016
However, the proposal also received a lot of backlash, with many people questioning the idea of staging an incident of police brutality when so many die at the hands of the police each year.
Planning a police brutality setting as a place for a wedding proposal is beyond the pale. I'm sorry but I would have been pissed off.

— Shay Stewart Bouley (@blackgirlinmain) December 11, 2016
READ MORE: Black Lives Matter protest disrupts Black Friday sales in Seattle

In another video, McPhearson responded to some of the criticism.
"I know my girl, I know exactly how she act, that's why I did it this way," he said. "We both ride and bikers always have a problem with the police. Clearly we're both black and you have the whole Black Lives Matter thing going on."
Speaking to Al.com, he said that he talked to Mobile police earlier in the day to arrange the proposal, and reported, "They were all for it!"