Trump taps 'Mad Dog' Mattis to be secretary of defense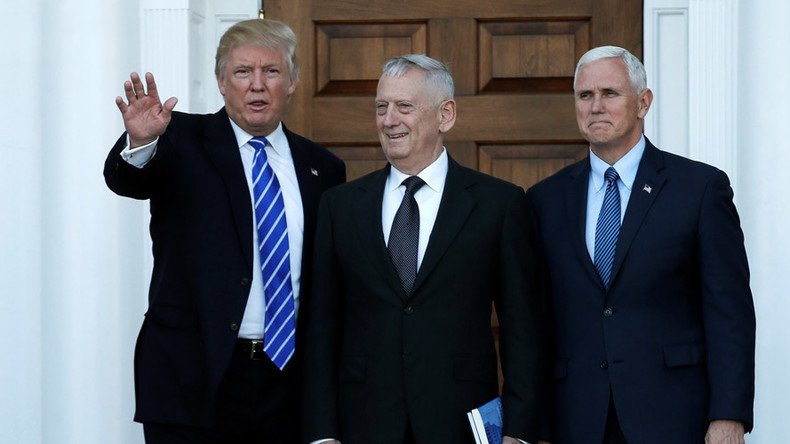 President-elect Donald Trump will nominate retired Marine General James 'Mad Dog' Mattis to be the 26th secretary of defense. He would also serve as a member of the National Security Council.
Following media reports Thursday, Trump made the news official during an evening rally in Cincinnati, Ohio.
Ha @realDonaldTrump on tv in front of thousands "we are going to announce Maddog Mattis on Monday... don't tell anyone keep it in the room"

— Donald Trump Jr. (@DonaldJTrumpJr) December 2, 2016
If confirmed, he would replace the current secretary, Ash Carter, who was confirmed in February 2015. However, Congress must pass a waiver before that happens because federal law states that service members must wait seven years after retiring from active duty before they can hold senior civilian defense positions, including secretary of defense.
SCOOP: Trump has picked retired Gen. James "Mad Dog" Mattis to be secretary of defense, sources tell The Post. https://www.washingtonpost.com/world/national-security/trump-has-chosen-retired-marine-gen-james-mattis-for-secretary-of-defense/2016/12/01/6c6b3b74-aff9-11e6-be1c-8cec35b1ad25_story.html?utm_term=.f42a972e55c9

— (@DanLamothe) Dec 01 2016
Mattis retired from the Marine Corps in 2013 after serving as the 11th commander of US Central Command, replacing General David Petraeus as the overseer of US operations in the Middle East and Afghanistan. As the head of CENTCOM, he maintained good relations with congressional lawmakers on both sides of the aisle, according to Military.com.
After high school, Mattis enlisted in the Marines, and was commissioned as a second lieutenant after earning a degree in history from Central Washington University. He served in the Persian Gulf, Afghanistan and Iraq Wars.
Trump referred to Mattis as "a true General's General" in a tweet after the two met on November 19.
"All I can say is he is the real deal. He is the real deal," Trump told reporters after their hour-long meeting in New Jersey, adding that Mattis is a "brilliant, wonderful man."
General James "Mad Dog" Mattis, who is being considered for Secretary of Defense, was very impressive yesterday. A true General's General!

— Donald J. Trump (@realDonaldTrump) November 20, 2016
The Marine butted heads with the Obama administration as he advocated for a tougher approach on Iran. Trump has repeatedly criticized the Iran nuclear deal that loosened sanctions on the country in exchange for ending its nuclear weapons program for a time.
Since retiring from the military, Mattis worked for FWA Consultants and is on the General Dynamics Board of Directors.
The Department of Defense was originally created as the War Department in 1789 to "plan, advise, and carry out the nation's security policies as directed by both the Secretary of Defense and the President." It was renamed as the National Military Establishment in 1947 and as the Department of Defense in 1949. The secretary of defense is sixth in the presidential line of succession.
READ MORE: War in August? US sends fourth aircraft carrier and dozens of underwater drones towards Iran
Headquartered at the Pentagon, the Defense Department oversees the branches of the military (Army, Navy, Air Force, Marine Corps, Coast Guard, and the National Guard and Reserve), Office of the Chairman of the Joint Chiefs of Staff and the Unified Combatant Command. Other defense agencies include the Defense Intelligence Agency (DIA), National Security Agency (NSA), National Geospatial Intelligence Agency, Defense Advanced Research Projects Agency (DARPA), Defense Information Systems Agency (DISA) and Missile Defense Agency (MDA).
Notable secretaries of defense include George Marshall (1950-1951); Robert McNamara (1961-1968); Donald Rumsfeld (1975-1977 and 2001-2006); future Vice President Dick Cheney (1989-1993); Bob Gates (2006-2011); Leon Panetta (2011-2013); and Chuck Hagel (2013-2015).
You can share this story on social media: