Obama appoints Ashton Carter as Pentagon chief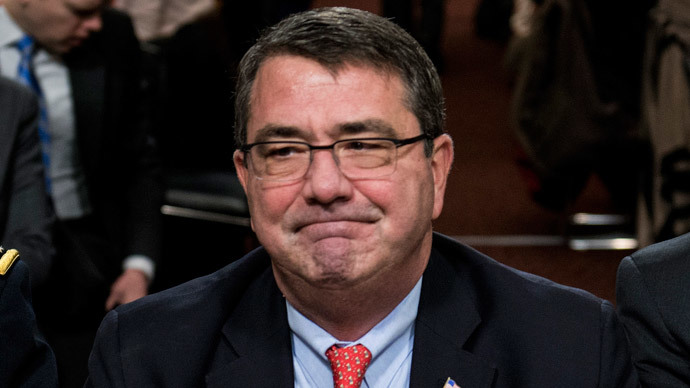 President Barack Obama is expected to announce Ashton B. Carter as his nominee to be the next secretary of defense, the Associated Press reports. Carter served as the Pentagon's second-in-command from October 2011 to December 2013.
If confirmed by the Senate, Carter would replace current Defense Secretary Chuck Hagel, who announced his resignation last Monday. Carter served as deputy secretary under both Hagel and his predecessor, Leon Panetta. Before that, he was the under secretary of defense for acquisition, technology and logistics from April 2009 until October 2011, where he "led the Department's efforts to accelerate the fulfillment of urgent operational needs; increase the Department's buying power; and strengthen the nation¹s defenses against emerging threats," according to his DOD bio. In layman's terms, he was the Pentagon's "chief arms buyer," Reuters noted.
The AP reported that a senior GOP senator confirmed early Tuesday that Obama has chosen Carter for the role.
BREAKING UPDATE: Senior GOP senator: Obama has chosen Ashton Carter as nominee to be next defense secretary.

— The Associated Press (@AP) December 2, 2014
Although no longer working at the Pentagon, Carter is a member of the President's Management Council and the National Council on Federal-Labor-Management Relations. During President Bill Clinton's administration, Carter was Assistant Secretary of Defense for International Security Policy.
He has an extensive academic background, beginning with his own education. Carter earned bachelor's degrees in physics and in medieval history from Yale University, and received his doctorate in theoretical physics from Oxford University, where he was a Rhodes Scholar. Before joining the Pentagon in 2009, was chair of the International and Global Affairs faculty at Harvard University's John F. Kennedy School of Government and Co-Director of the Preventive Defense Project.
Carter's academic record is such that Gen. Martin Dempsey, chairman of the Joint Chiefs of Staff, jokingly noted at Carter's farewell ceremony last December that the Pentagon's former second-in-command has been called an "uber-wonk" and that in Hollywood circles he would be considered "not hot," the Associated Press reported. But Dempsey said Carter had earned respect far and wide.
"It's lucky for us that you have worked without glamor or fame behind the scenes to make sure through good management and common sense and discipline that we are an organization that continues to adapt to the challenge that we find in front of us," Dempsey told Carter at his farewell. "He did it all again without fanfare. In fact, I think he's been called the most important, least known figure in Washington, or some language to that effect, and I agree with that."
Carter was previously seen as a contender for the position, but was passed over for Hagel. He stayed on as deputy secretary for 10 months into the new secretary's tenure. But many defense officials and analysts viewed Carter as "an uncomfortable understudy to Hagel, given his own ambitions to lead the Pentagon," the Washington Post reported at the time Carter resigned.
In his resignation letter, Carter said he had "long firmly intended" to leave the Pentagon, but that he kept quiet about his plans because of "the turbulence surrounding the fiscal situation," an apparent reference to the federal government shutdown and other forced budget cuts confronting the military, the Post said.
"Ash has been an extraordinarily loyal and effective Deputy Secretary," Hagel wrote in a statement at the time. "The Department will miss him — I will miss him."
Carter's view of US defense priorities appears to fit well with the Obama agenda, including better minding of defense alliances and partnerships in Asia and the Pacific, as well as more attention on cyber-defense and countering the spread of weapons of mass destruction, according to AP.
In July 2013 remarks, Carter noted that the Pentagon had entered an era of transition requiring fresh thinking, which could be negatively affected in the coming years by the across-the-board budget cuts known as sequestration.
His previous experience at the Defense Department will allow him to hit the ground running, especially since he has garnered much respect from many senior military officials.
"His career has sort of prepared him perfectly for this kind of a moment," Michael O'Hanlon, a defense industry analyst at the Brookings Institution, told CNN. "On paper and in terms of his resume and preparation you probably couldn't do much better."
O'Hanlon noted, however, that Carter lacks the first-hand military experience that Hagel, Panetta and many other defense secretaries brought to the position.
"You can always find things that you would have loved in a hundred year life span to have seen everyone do before they take this job, but realistically he has accomplished about as much as you could ask," O'Hanlon said.
You can share this story on social media: