Brawls & fatal shootings mark 'Black Friday' across US (VIDEO)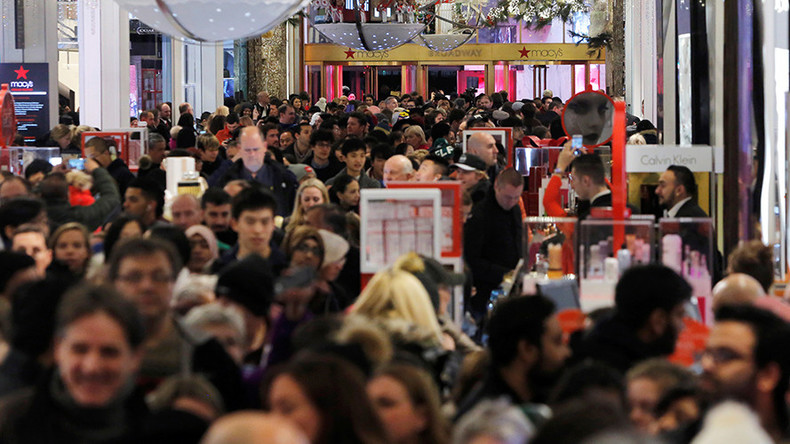 At least two people have been killed in shootings at three malls across the US, as 'Black Friday' – the biggest shopping day of the year – kicked off after the Thanksgiving holiday. Shoppers all over the country brawled over coveted merchandise.
The day after Thanksgiving signals the start of the Christmas gift shopping season. The name supposedly refers to profits that put retailers' accounts 'in the black.' On the downside, many shoppers wanting early access to popular products sometimes literally fight each other for the privilege – sometimes to the death.
READ MORE: Thanksgiving online sales surge as American shoppers choose to stay at home
Three suspects have been arrested after a shooting at the Wolfchase Galleria mall in Memphis, Tennessee, police said. Multiple vehicles were hit by gunfire, and one person was taken to the hospital in critical condition.
Witnesses told WHBQ-TV that "at least 40 shots were fired."
A 33-year-old man was shot and killed in a dispute over a parking spot outside a Walmart in Reno, Nevada, on Thursday evening, local police said. He reportedly got into a dispute with another man, and both were armed. Police have identified the people involved, and the investigation is ongoing.
In keeping with American tradition, the bulk of the violence across the US occurred at or nearby a big box chain store. One man was reportedly killed responding to a domestic violence dispute when he was shot by the abuser.
At a Walmart in San Antonio, Texas, a shooter left one man dead and two women wounded, San Antonio Police Chief William McManus told Reuters. The shooter, suspected to be 21-year-old Telles Juarez, was allegedly punching a woman while pulling her hair in the parking lot, when a man driving by stopped his car and called for Juarez to stop.
Juarez then purportedly fired multiple shots, hitting the man fatally in his neck, with shrapnel injuring and hospitalizing a woman sitting in the car with the intervening man, and a stray bullet striking another woman in the parking lot, leaving her in critical condition.
Juarez allegedly fled the scene, but witnesses contacted police with enough information that a helicopter was able to track him down not long after. He will be charged with murder and aggravated assault.
#BREAKING: San Antonio police say man killed in #Walmart parking lot was helping victim of domestic abuse when abuser shot Good Samaritan.

— MaryAnn Martinez (@maryannreports) November 25, 2016
Chattanooga police say that two people were shot at the Hamilton Place shopping center. Police say they have one person in custody and another person of interest detained.
UPDATE: @ChattanoogaPD says two people were shot after a fight at Hamilton Place. 1 suspect in custody, 1 person of interest detained.

— Ken Nicholson (@newsken) November 25, 2016
One man was killed and another injured in a shooting at a parking lot outside a Macy's store in Mays Landing, in Hamilton Township, New Jersey. The deceased was identified as a 20-year-old male from Atlantic City, shot "multiple times." His brother, 26, is being treated for a gunshot wound in the leg. Police are still searching for a suspect.
In stores across the US, shoppers came to blows over holiday sales, in some cases requiring police intervention.
At a Walmart in Houston, Texas, one man lost his shorts trying to hold on to a $99 children's car.
Police intervened after brawling shoppers knocked over a product stand at a Walmart in Moline, Illinois.
Here is a video of a run on towels in Bainbridge, Georgia, taken by Nancy Pritchett.
One Twitter user captured a fistfight that broke out at a mall in Modesto, California.
Meanwhile, online shoppers had to deal with checkout problems due to overwhelming traffic, affecting major retailers such as Macy's and Express.
Went to check out at @express and your whole site crashed 😡 now I'm going to miss the 50% off

— Cierra Paul (@Cierra_Paul) November 25, 2016