Yellowstone visitor suffers fatal fall into boiling-hot acidic geyser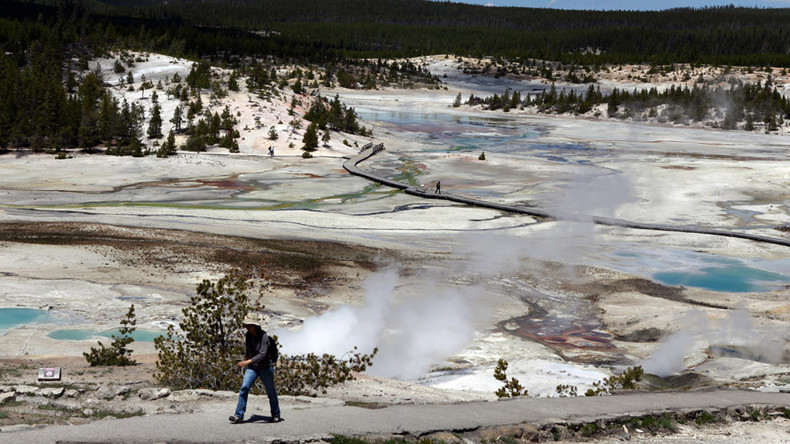 A man who was dissolved in a scorching-hot acidic geyser while visiting Yellowstone National Park during the summer had been trying to find a place to bathe when he accidentally fell into the spring.
In June, Colin Nathaniel Scott lost his footing and fell into a Norris Geyser Basin spring, one of the oldest and hottest in the Wyoming nature reserve with temperatures around 93 degrees celsius (199 Fahrenheit).
According to the US National Park Service, the geyser is one of the most volatile thermal areas in Yellowstone and contains mineral oxides which give it a colorful tinge.
The 23 year old and his sister had reportedly ignored park rules and gone 225 yards off-road when the tragic incident occurred, according to the Associated Press.
A Freedom of Information request regarding park officials' final report on the accident has now revealed the pair were searching for an area to soak, or try "hot potting," report KULR 8 News.
"There's a closure in place to keep people from doing that for their own safety and also to protect the resources because they are very fragile," Deputy Chief Ranger Lorant Veress told the station.
He described the Norris Geyser Basin as a "very unforgiving environment".
It's also emerged that part of the accident was recorded by Scott's sister on a phone, although the contents of the video have not been released or disclosed by officials.
Attempts to recover the Portland native's body where hampered by poor weather and a day later the 23-year-old's remains had dissolved.
"They were able to recover a few personal effects. There were no remains left to recover," park official Charissa Reid said at the time.