Cross country competitor bodyslammed by oncoming deer (VIDEO)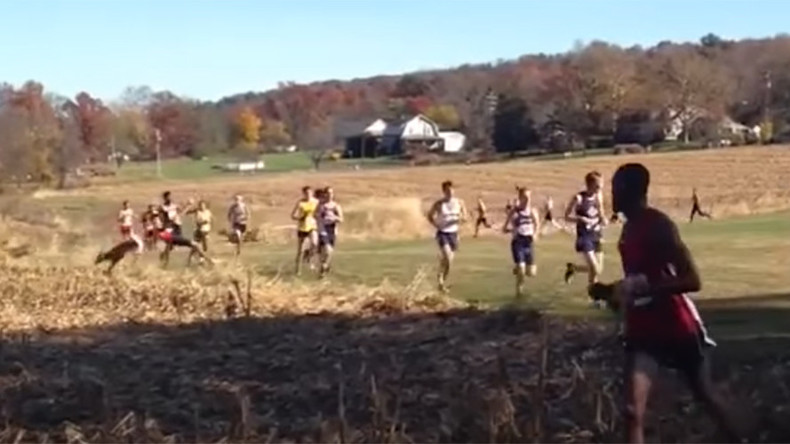 A runner had to contend with a surprise intruder when a deer dashed from a nearby forest and rammed the young man to the ground during a cross country race.
Gwynedd Mercy University athlete Justin DeLuzio was taking part in an 8-kilometer cross country championship run in Pennsylvania on Saturday.
However, his race almost hit the skids after a thunderous collision with a wild deer.
Footage of the incredibly unlucky moment was captured by spectator Eric Bologa, who posted the video on social media alongside the caption: "Who says cross country isn't a contact sport?"
It shows one race spectator desperately shouting for the runner to "watch out for the deer," before the unfortunate collision.
"I was recording my runner and they all had passed and the deer came running out of the woods," Bologa told Pennsylvania's Morning Call newspaper.
"So I pulled up my phone and next things I knew they collided. We ran over to see if he was alright and he just kept on running."
Gwynedd Mercy University has praised the blindsided student for getting to his feet and finishing the race.
DeLuzio said he was fortunate to escape serious injury.
"I was lucky. I know if that deer was a little bit bigger I could have been in serious trauma," he told NBC 10.
The Pennsylvania state college team finally finished in 46th place out of a possible 52.