Captured 'Mad Max' type vehicle becomes central to battle against ISIS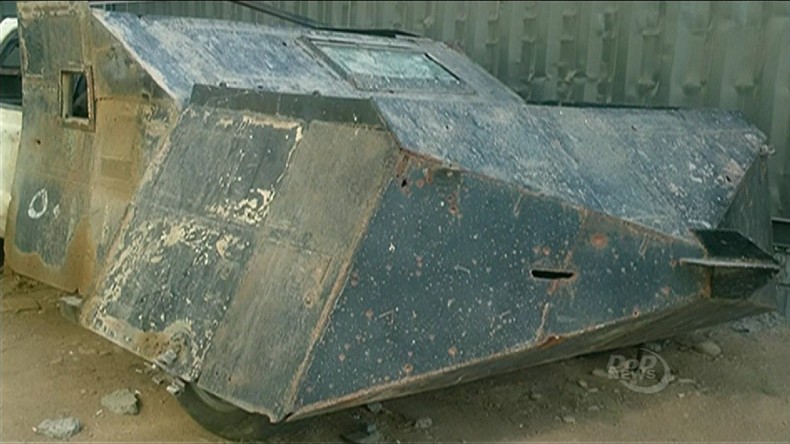 Islamic State has used vehicle-borne improvised explosive devices with Mad Max-like armor to devastating effect. The tide may be turning in Mosul now that Iraqi troops have captured one such truck and destroyed over 60 more, a Pentagon official said.
Suicide vehicle-bombs, officially called vehicle-borne improvised explosive devices (VBIEDs) that are covered in armor, have been used at least 240 times by Islamic State (IS, formerly ISIS/ISIL) fighters, Reuters reported Monday, citing Iraqi commanders. They are not only rolling bombs, but they force the Iraqi advance to slow down as troops enter homes to watch for approaching vehicles that look like they came off the set of a 'Mad Max' film.
On November 5, a coalition airstrike destroyed an IS VBIED factory near Tal Afar, Iraq, Air Force Colonel John Dorrian, spokesman for the Combined Joint Task Force's Operation Inherent Resolve, told reporters during a Pentagon briefing on Wednesday. The strike caused "pretty significant secondary explosions," he said. Coalition forces in Kurdish Peshmerga territory also captured a VBIED that is now being used to train Peshmerga forces to react to and stop the threat of these vehicles at a US training site in northern Iraq.
"It's reminiscent of a 'Mad Max' vehicle, with armored plating in the front to protect the driver until he can detonate the explosives he's carrying on board," Dorrian said, noting that the VBIED was stopped with 50-caliber weapons fire. "The coalition has used strikes, mostly from the air, to destroy these anywhere that they can be found. Around Mosul, we've destroyed 60-plus since the Iraqi forces commenced their operation to liberate the city on October 17."
Coalition forces destroyed hundreds of VBIEDs during the months leading up to the Mosul operation as well, Dorrian added. US and coalition forces have conducted more than 4,000 airstrikes so far on IS targets in and around Mosul, including destroying more than 80 tunnels.
After Iraqi forces take the city, Islamic State will become a "garden-variety terrorist group," Dorrian said. Once Mosul is freed, the Iraqis will move on to Tal Afar, but there is no timeline for that operation, he noted.
Dorrian refused to provide details about the operation, including how much and which parts of Mosul has been taken by Iraqi forces so far, as well as whether or not there are US trainers and advisers in the city. He wants Iraqis to be able to conduct their mission with operational security in mind, he said.
Operation Inherent Resolve is also focused on operations against IS in Syria, where, over the past week, coalition forces have conducted 60 airstrikes designed to isolate the city of Raqqa along two converging axes of advance. Syrian Democratic Forces (SDF) liberated 270 square kilometers of the city over that time, and 321 sq km since the beginning of operation. The coalition expects resistance to stiffen as forces move closer to city, Dorrian said.
Turkey is also conducting a separate operation with its partners but not within the coalition framework to take Al Bab, a city on the northern border of Syria, making it a "complicated battlefield with lots of competing actors," Dorrian said, admonishing the country for its independent action that could "converge in a way that would be unhelpful." Turkey will make a decision about moving forward into Syria after its Al Bab mission, he added.
Although the US has not supported Turkey's advance to Al Bab so far, Washington is in daily communication with its Middle Eastern ally, and the US did conduct strikes to help Turkey to clear IS along its border with Syria. American troops who were partnered with Turkey were removed after the advance on Al Bab began, Dorrian said.
When asked if the commanders in Iraq had been approached by the transition team for President-elect Donald Trump, Dorrian said that he was not aware of any such interest, but that the commanders are focused on taking out Islamic State, not on presidential politics.