Will Trump forgo presidential salary? Numerous reports suggest president-elect won't take pay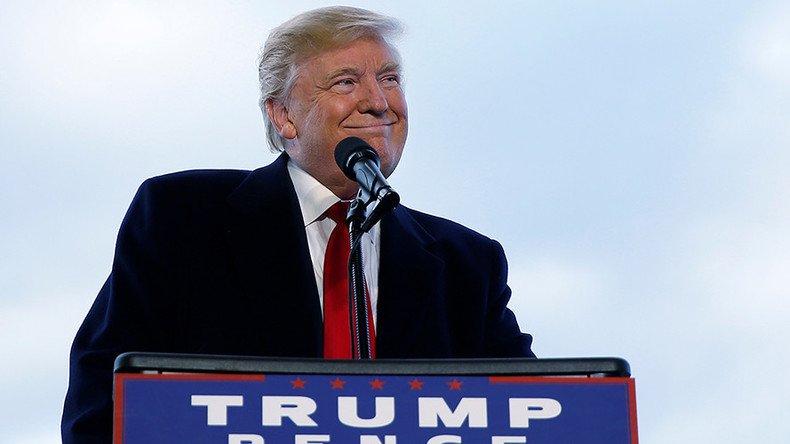 Donald Trump has said he will not accept the presidential salary of $400,000 once his term as 45th president of the US gets underway, but whether he sticks to his pledge is being debated online.
Although he has not yet officially commented on the issue of his presidential salary since winning the election, a number of media outlets have published stories detailing how Trump will not draw a salary while in the Oval Office. The basis for these reports stem from comments made by Trump during the campaign.
On September 17, 2015, he told a Rochester, New Hampshire crowd, "The first thing I'm going to do is tell you that if I'm elected president, I'm accepting no salary, okay? That's not a big deal for me."
He repeated this in a Twitter Q&A the same month, saying, "As far as the salary is concerned — I won't take even one dollar."
While the exact total of Trump's wealth remains a mystery, the Republican says he doesn't need the presidential salary. Forbes estimates his net worth is $3.7 billion, taking his property and assets into account. Trump refused to release his tax returns during the election, breaking from tradition, which leaves his wealth open to speculation.
READ MORE: Texas mom packs young son's suitcase, throws him out for voting Trump
The US Code states the president is entitled to receive "compensation in the aggregate amount of $400,000 a year, to be paid monthly, and in addition an expense allowance of $50,000 to assist in defraying expenses relating to or resulting from the discharge of his official duties."
If Trump sticks to his promise, he will join former presidents Herbert Hoover and John F Kennedy in forgoing the presidential pay check. Hoover had made his fortune in mining before entering the White House, while Kennedy had family money. Both donated their salary to charity.
If Trump does goes this route, it's unclear which charity would be the recipient - his own Donald J. Trump Foundation, or maybe even the the Clinton Foundation - giving up the presidential salary will resound wide and loud among his working class base.
Trump plans for forgo his $400k presidential salary. I'm curious to see how @CNN will spin that as an act of racism or bigotry. #BoycottCNN

— Sam Silverman (@SamanthaSilver0) November 12, 2016
@Independent That is a true leader. Imagine Hillary as president! She would sell rooms in White House.

— HigherIntelligence (@smartaura) November 12, 2016
TRUMP ISN'T EVEN TAKING A SALARY AS PRESIDENT HE CANT BE BOUGHT HE CANT CORRUPTED HE JUST CARES ABOUT THE COUNTRY AND THAT WE BECOME GREATER

— Zachary (@zachL22) November 10, 2016
Donald Trump will only accept $1 out of the $400,000 presidential salary. Can anyone imagine multimillionaire Clinton refusing that money?

— BASEMENT BERNER (@CATS_PAWS) November 9, 2016
Many other social media users are a little skeptical, however.
You can share this story on social media: