Texas mom packs young son's suitcase, throws him out for voting Trump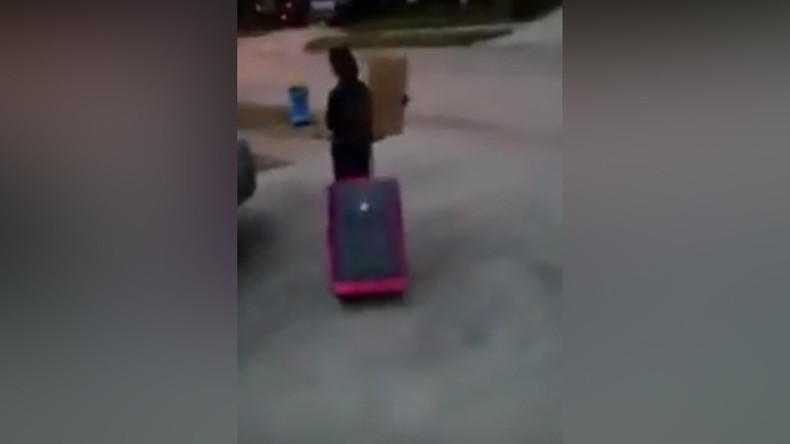 A mother in Texas has been criticized after a video emerged showing her berating her son before apparently kicking him out of the house as punishment for voting for Donald Trump in a mock election at school.
The footage of the unidentified woman humiliating her young son was uploaded to Facebook and shows the child crying and screaming in shock when he is led to the front door with a suitcase full of his belongings.
"The suitcase is packed by the door, been packed since this morning. Bye!" the mom is heard screaming as her son starts crying.
She then forces him to take a sign that reads, "My mom kicked me out of the house because I voted for Donald Trump."
"Since you voted for Donald Trump, you can get your sh*t and get out," she shouts as she leads the boy to the front door.
"So when the people see you outside, they know why you're standing out there," she adds.
READ MORE: 'About time for an assassination': Trump death threats swamp Twitter
At the end of the video, which has been viewed over 11 million times since being uploaded on Friday, the boy is seen pulling the suitcase down the driveway and onto the sidewalk while his mother continues to taunt him.
"Bye, Donald Trump lover," she is heard saying.
Viewers of the video described the woman's actions as "child abuse" while others branded it "cruelty."
Another commenter said it was "very very unfortunate that someone would treat their own family this way just because they have a different political opinion."
READ MORE: 'Build that wall!' Latino school kids reduced to tears by classmates' pro-Trump chant (VIDEO)
Police said that although the video was disturbing, there didn't appear to be any criminal wrongdoing, according to ABC13, who spoke to detectives.
"I've personally met with the family and saw the child, his well-being, he appears to be in good health," detective Joe Luera told ABC. "She [the mother] explained that it was a joke."
You can share this story on social media: