'Build that wall!' Latino school kids reduced to tears by classmates' pro-Trump chant (VIDEO)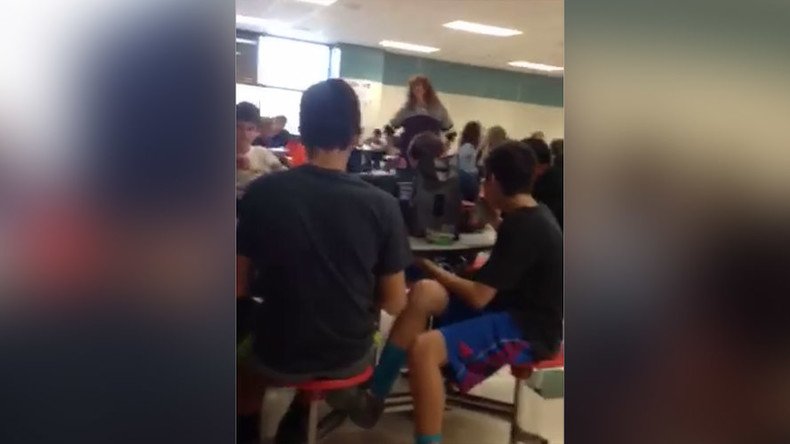 A group of students in Michigan have been condemned after a video emerged in which they can be heard chanting "Build that wall" at Latino students a day after Republican candidate Donald Trump was elected president.
Footage of the incident, which took place during lunchtime at Royal Oak Middle School in Royal Oak, was uploaded to Facebook and has now been viewed over 9 million times.
Josie Ramon, a 12-year-old seventh grader at the school, filmed the moment and shared it with her mother and said "tears were running down my face," according to Detroit News.
"I was so upset. A friend went to the bathroom crying," said the young girl, who is Mexican-American. "Everybody was chanting along with it. She was scared. She looked really upset. I felt really bad for her."
The student added that she felt compelled to record the incident for "evidence."
The short video shows students in the crowded canteen repeating the chant while others look on.
Dee Perez-Scott, who posted the video on Facebook, wrote, "It is so sad. Latino children were crying. The taunts, the 'Build that Wall' with such bullying power and hate from children to children. Just horrifying!"
A school official said in a statement that the school was "committed to providing a safe, secure, and supportive learning environment for all students."
"We have addressed this incident when it occurred. We are working with our students to help them understand the impact of their words and actions on others in their school community," Superintendent of Schools, Shawn Lewis-Lakin said.
In a video message to students, Todd Noonan, principal of the school, called the chanting "unacceptable."
"Because this incident, brief though it may have been, made people feel unsafe, it was an incident that requires an unequivocal response from all of us," Noonan said.
In a separate incident, a high school student in California was attacked by a classmate after supporting Donald Trump in an Instagram post.
Jade Armenio had shared a screenshot of CNN projecting Donald Trump's win and was beaten up the following day.
You can share this story on social media: