'About time for an assassination': Trump death threats swamp Twitter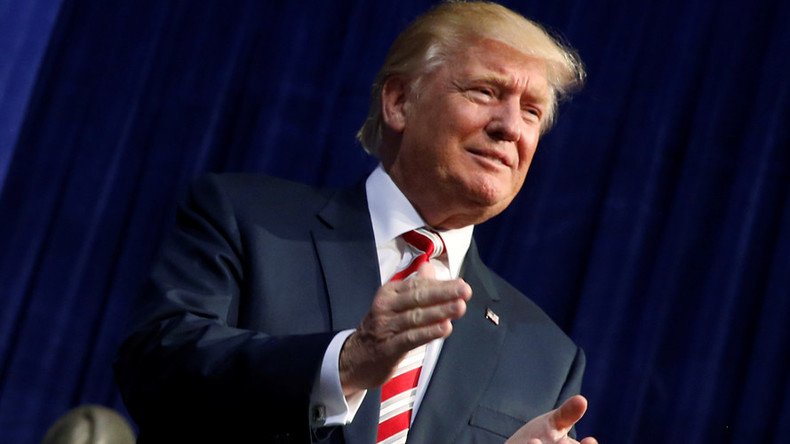 Numerous disgruntled Americans have taken to Twitter to encourage the murder of Donald Trump, echoing the reaction to Barack Obama's 2008 election victory, albeit from a different side of the political spectrum.
"I'm not saying someone should try and assasinate [sic] trump.... but if you do, don't miss," was a sentiment tweeted by many unhappy with his election win, hoping Trump will be killed before his inauguration as the 45th US president on January 20, 2017.
A journalist from the UK found herself in hot water after she too tweeted that it was "about time for a presidential assassination."
Monisha Rajesh, who wrote for both the Guardian and Telegraph newspapers, has since deleted her account on the social network.
Others warned that assassinating Trump will only leave the US with a bigger problem – Mike Pence. The vice president-elect is an unpopular figure with many Democrats, upset by his opposition to gay marriage and abortion.
Some have appealed to the "sketchy" side of the Democratic Party to carry out the assassination, claiming it can help atone for the murder of Martin Luther King Jr.
The Secret Service are aware of the threats, a source reportedly told the Daily Mail. Mining through social media, the agency said it can corroborate which threats carry weight and which don't.
One Twitter user claimed officials showed up at his home to interrogate him after tweeting "Ima shoot Donald the next time I see him." The agency said that anyone making threats could face a fine and up to five years in prison.
President Obama faced a similar backlash when he first took office, with many worrying that white supremacists would attempt to assassinate him.
Even before he was nominated the Secret Service began protecting him in 2007. The security of the then-junior Senator for Illinois became a concern after a threat was made against him.
The current mood against Trump in the US has led to protests across the country from those unhappy with the election result.
READ MORE: Vandalized cars, smashed windows: Anti-Trump protest in Portland proclaimed 'riot' (PHOTOS, VIDEO)
You can share this story on social media: