KKK to host Trump 'victory parade' in North Carolina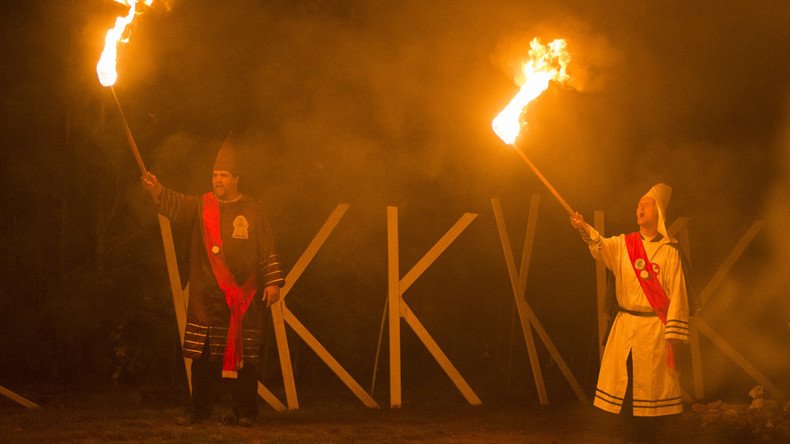 The Ku Klux Klan announced it will hold a victory parade in North Carolina in December to celebrate Donald Trump's win.
The white supremacist group endorsed the Republican presidential candidate in April, with its unnamed 'Imperial Wizard' voicing his support for the former businessman.
The parade is being organized by the 'Loyal White Knights of the Ku Klux Klan' in Pelham on December 3, but the time and location of the 'Victory Klavalkade Klan Parade' are being kept under wraps.
On the group's website, between statements like, "One country, one flag, one language,""Trump's race united my people," and images of white hooded groups, the KKK seeks to "dispel some of the lies told about us by the liberal news media."
"We are not a hate group," it states. "However, we do hate some things that certain groups are doing to our race and our nation. We hate drugs, homosexuality, abortion and race-mixing."
The KKK's goal is to "restore America to a White Christian nation, founded on God's word."
"This does not mean that we want to see anything bad happen to the darker races... we simply want to live separate from them," it continues. "Most of our youth are on DRUGS or pregnant with a mongrel child."
Last year, the group protested the removal of the Confederate flag from South Carolina's state house.
Trump won the state of North Carolina by 5 percent. The state has become a center for the 'alt-right' movement, drawing controversy for its anti-transgender HB2 'bathroom bill' and accusations of voter discrimination, US Uncut reports.
When Trump won the election, former KKK Grand Wizard David Duke tweeted, "This is one of the most exciting nights of my life – make no mistake about it, our people have played a HUGE role in electing Trump!"
You can share this story on social media: