Ex-cop charged in black man's murder says Confederate shirt meant 'nothing'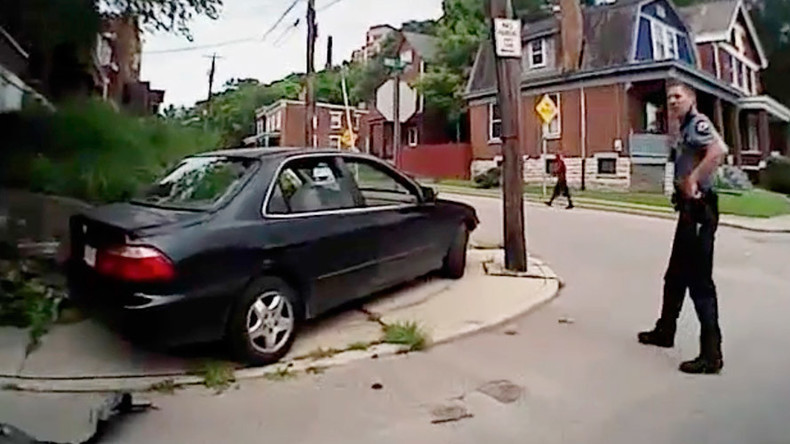 Former University of Cincinnati police officer Ray Tensing, on trial for the July 2015 murder of African-American man Samuel DuBose, insisted in court that a Confederate flag t-shirt he wore on the day of the shooting "means nothing" to him.
Testifying for the first time in his own murder trial, Tensing said Tuesday that the shirt he wore under his uniform — which depicts a Confederate flag and the words "Great Smoky Mountains," a reference to the National Park — was a meaningless piece of attire. He has pleaded not guilty to murder and voluntary manslaughter charges.
"Do you have any sense how offensive that T-shirt you wore that day is to the African-American community?" asked Hamilton County Prosecutor Joe Deters during cross-examination on Tuesday, according to the Cincinnati Enquirer.
"Sir, that T-shirt means nothing to me," Tensing, who is white, answered. "I threw it on and never looked twice, never thought about it."
Deters also pressed Tensing about his account of what happened during the traffic stop that ended in the death of DuBose.
DuBose, 43, was fatally shot during a routine traffic stop near the University of Cincinnati's campus on July 19, 2015. According to Tensing, he pulled over DuBose because his car was missing the front license plate. After what appears to be a brief struggle between the two men, in footage of the encounter from Tensing's body camera, Tensing shot DuBose in the head.
Deters has called it a"senseless, asinine shooting."
"You realize that none of the eyewitness accounts support your story about being dragged, don't you?" the prosecutor asked.
"Sir, they weren't in my position," Tensing responded. "I can't speak for them."
Tensing said he thought he was dragged as much as 20 feet by DuBose's Honda Accord, leading him to fire on DuBose in wha the said was self-defense. Prosecutors dispute the assertion that Tensing was dragged at all, saying that DuBose's foot hit the car's accelerator as a "postmortem reflex" after Tensing shot him.
Earlier in the trial, a county crime lab director testified that Tensing's clothing and boots did not show signs of the officer being dragged.
"Would you not agree that if you are dragged 20 feet behind a speeding car you are going to have more damage than that?" Deters asked on Tuesday.
Tensing said that while he was not dragged on the concrete, there was evidence of damage to his belt and uniform.
In the encounter with DuBose, Tensing repeatedly asked to see the driver's license. At some point, he reached into the vehicle and DuBose resisted the intrusion. An expert who analyzed Tensing's body camera footage testified last week that about a half second before Tensing fired his gun, he used his left hand to grab DuBose's seat belt. Both the prosecution and defense have admitted that it was wrong for Tensing to reach into the car, the Enquirer has reported.
On Tuesday, while taking the stand in his own defense, Tensing said he reached into the car because he thought he could knock the keys from the ignition to "regain control." DuBose accelerated at that point, Tensing testified.
"My body twisted to the left. I was now facing more of the trunk of his car. And I started falling backwards. During this I told him to stop twice," he said, adding that he felt like he was "attached to his car for a mile, but I would guess I was attached to his car for 15 to 20 feet."
The day before, it was shown in trial that Tensing did not follow the officer training he received seven months prior to the shooting. "NEVER.. NEVER.. NEVER.. NEVER.. reach into a vehicle," says the PowerPoint presentation used by Hamilton Township Police Chief Scott Hughes to train Tensing and other officers.
Deters asked Tensing about his record as the University of Cincinnati police officer with the most number of citations, stops, and arrests – as well as the highest racial disparity amid those stops.
Tensing said he often did not know the race of the drivers of cars he stopped. When his defense attorney asked him later in the day if he purposely targeted black drivers during stops, Tensing answered, "No, sir. Not at all."
Closing arguments in the trial are set for Wednesday, November 9.