'It ought to be a crime': Ralph Nader slams 'two-party tyranny' on RT (VIDEO)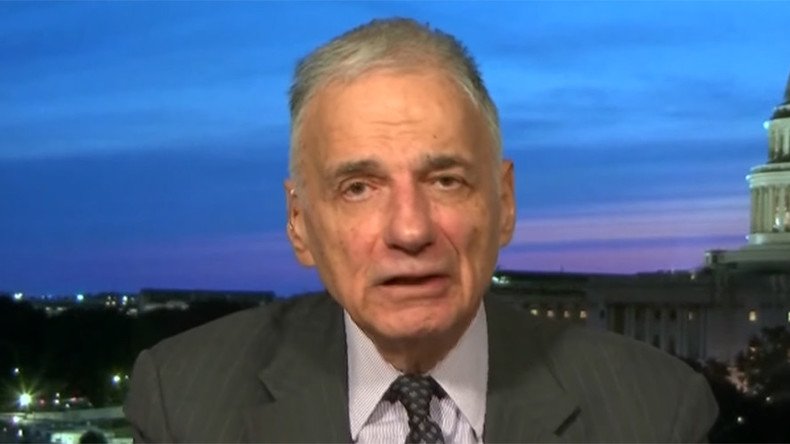 The First Amendment should guarantee that no third-party or independent candidate ever is kept from offering voters more choices, former Green Party presidential nominee Ralph Nader told RT.
Sixteen years have passed since Nader was first accused of throwing the 2000 election for George W. Bush against Al Gore. Now, alternative candidates are receiving a bit more respect and attention. But Nader said "it's still the same problem."
Joining RT's Jesse Ventura and Lindsay France, the consumer protection advocate blamed "the two-party tyranny that specializes in getting corporate cash for their campaigns, on the one hand, and excluding competition, on the other."
"They keep them out of the debates," Nader continued. "It's the presidential debate corporation, funded by corporations, created by the Republican Democratic Party, to keep out people who have other views and other agendas, even if they're supported by the majority of the American people, as many Green Party agendas are and some Libertarian Party agendas."
Nader views this system as more than just unfair.
"There is no country in the western world that creates more obstacles for third-party and independent candidates simply to get on the ballot and give the voters a choice. And no country in the western world that suppresses voters from voting in the first place around the country with all kinds of maneuvers."
The former presidential candidate went so far as to say it should be considered unconstitutional.
"When you run as a candidate, it's a consummate use of the First Amendment, freedom of speech, freedom of petition, freedom of assembly," adding, "I think it ought to be a crime to systematically use all kinds of devious methods to keep people from giving the voters choice."
You can share this story on social media: