'Loose cannon' Trump and 'war drums' Clinton: Dr. Jill Stein on RT (VIDEO)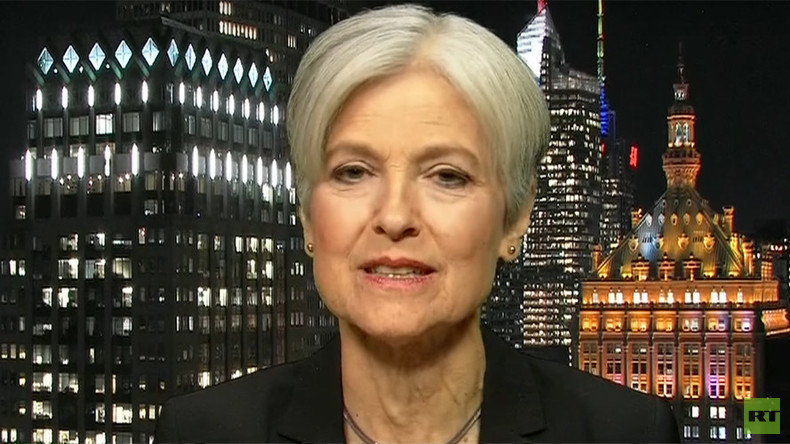 Green Party presidential nominee Dr. Jill Stein lays out why she is among the "well kept secrets" of the 2016 election, and what Americans can expect after all of the votes are counted.
Without easy ballot access or an opportunity to debate Donald Trump or Hillary Clinton, Stein has had to work that much harder to garner the attention of voters. But she does believe most Americans agree with her that neither of the major candidates promise a bright future.
Stein's strongest support, she tells RT's Ed Schultz, comes from "millennials" as well as "independents ... immigrants, and ... people of color. That's where we're running strongest. Those are also the demographics that are massively undersampled in most polls."
"I'm really encouraging people not to throw their vote away on a failed two-party system that's throwing the American people under the bus," she said, "that this is the time to invest our votes in a real movement for change."
"If we hit that 5 percent threshold, it's a whole new ballgame in terms of matching funds worth $10 million and automatic ballot status, so that we can hit the ground running, not four years from now, but starting on November 9 for the local races coming up this Spring," she says.
Asked about a previous statement that Clinton is a "mushroom cloud waiting to happen," Stein said, "My point is that Donald Trump is a wildcard. He's a loose cannon, but we shouldn't fool ourselves into thinking that we're going to be safe and secure with Hillary Clinton in the White House."
"Hillary Clinton has a proven track record for catastrophic, failed wars," Stein stressed, citing Iraq and Libya. "Her stated policy in Syria is to go for a no-fly zone, which amounts to a declaration of war with Russia at a time that we have two-thousand nuclear weapons on hair-trigger alert."
"None other than Mikhail Gorbachev, the former leader of the Soviet Union, himself has said that this is the most dangerous moment in all of history for the potential to slip into nuclear war," she continued. "And that could certainly happen in the blink of an eye if Hillary Clinton has her way in Syria."
Impending disasters aside, Stein is confident that third-party options like herself and the Libertarian Party's nominee Gary Johnson will break through before long.
"I think Gary Johnson and I are the well kept secrets. We're the inconvenient truth, because these candidates have been the most unpopular, the most disliked, the most untrusted from the very beginning," she said. "A poll in the New York Times a couple days ago said that 80 percent of the American public considers this election repulsive. When you're repulsed, you're looking for somewhere else to go."