'Clever-cyber thief to a convicted criminal': Huma Abedin & Clinton discuss Assange in emails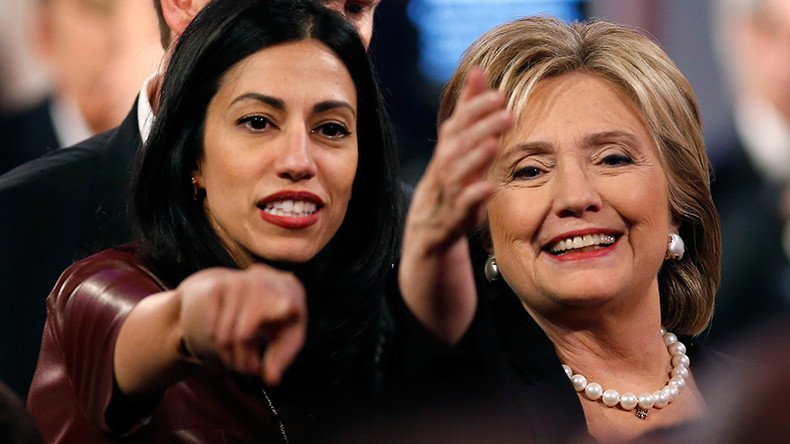 Newly released emails from the US State Department reveal Hillary Clinton and her senior aide Huma Abedin discussing ways to deal with WikiLeaks founder Julian Assange after he had published 250,000 diplomatic cables.
Abedin writes to Clinton in December 2010, advising the then-secretary of state on her statement on Assange and WikiLeaks.
"We view this not as a "clever game" of wiki leaks but rather as a "criminal act" against the United States of America," Abedin writes. "He might think this is a clever game today-but when he is prosecuted and if convicted-he will move from being a clever-cyber thief to a convicted criminal--and will find out that's a whole different kind of game."
READ MORE: The State Department releases the latest batch, #18, of Clinton emails

More than 1,000 emails from Clinton's private email server were published on the State Department website Thursday as part of a Freedom of Information request by Vice News into the FBI's investigation into the private server.
Many of the emails have already been released by WikiLeaks, but this one is new.
The State Department is due to release another batch of emails Friday.
Clinton had strong statements on Assange on other occasions. Earlier this year, it emerged that in the lead up to WikiLeaks' 'CableGate' release, Clinton reportedly said, "Can't we just drone this guy?" in a State Department meeting.
READ MORE: Hillary Clinton considered drone attack on Julian Assange - report

At that stage, the whistleblowing site had already published damning documents on the war in Afghanistan and Iraq.
In October, Clinton commented on NSA whistleblower Edward Snowden at a town hall event in October.
"Because he took valuable information and went first to China and then is now under the protection of Vladimir Putin, I think that raises a lot of questions about everything else he did," she said. "So I do not think he should escape having to return and answer for what he has done."
You can share this story on social media: