Peter Thiel's Palantir only willing to work with Clinton campaign, #PodestaEmails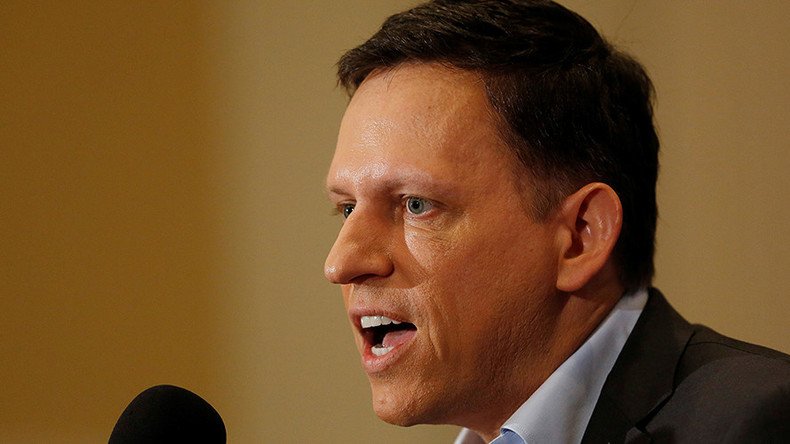 CIA-backed software company, Palantir, offered to work with Hillary Clinton's campaign - despite it's co-founder Peter Thiel's declaration of support for Donald Trump - according to an email released by WikiLeaks.
Palantir do not work with political campaigns, but in an email, Haim Saban tips off Clinton's campaign chair John Podesta to potential interest from CEO and co-founder Alex Karp.
The media mogul writes, "He was asked multiple times to work with various campaigns, but in a conversation I had with him yesterday, he stated that he would make only ONE exception: HRC," the email reads.
A search on Karp's political donations reveal a history of support for both the Republican and Democratic parties.
Podesta replies to Saban saying "Know him pretty well. Agree and will reach out. Thanks."
READ MORE: Spy-tool sellers Palantir secure $200 million in funding amid surveillance scandal
In May, Thiel announced his support for Donald Trump, becoming a Republican delegate in support of the candidate. Thiel praised Trump during speech at the Republican National Convention in June, saying he would lead America "back to a bright future."
Valued at nearly $20bn by Forbes, Palantir have sold surveillance tools to the CIA and the NSA. According to Forbes they may have played a key role in helping locate Osama bin Laden.
The company produce tools that can mine massive amounts of data, producing visualisations of complicated troves of information for their clients to interpret. Former CIA director George Tenet, who advises for the company, once said "I wish we had a tool of its power" available before the 9/11 attacks.
You can share this story on social media: