Spy-tool sellers Palantir secure $200 million in funding amid surveillance scandal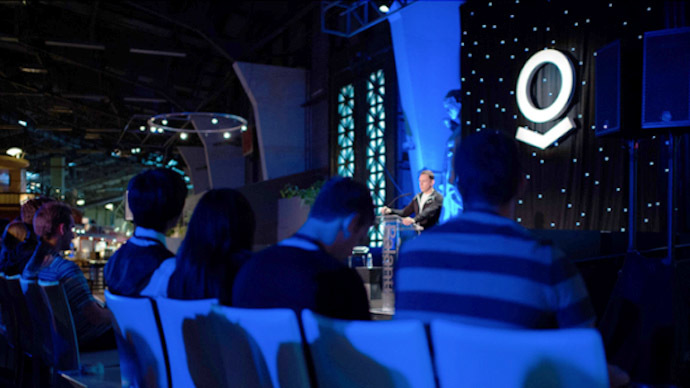 Selling spy products has never been easier: Palantir, a software company that has sold surveillance tools to the Central Intelligence Agency and other United States government offices, has raised almost $200 million in funds in under a month.
A Security and Exchange Commission filing dated last Friday revealed that Silicon Valley spy firm Palantir pulled in $196,500,204 from investors over what looks like a span of only a few weeks.
Forbes magazine profiled Palantir in an August 2013 cover story in which it was revealed that the company collected around $500 million through fundraising, according to CEO Alex Karp. Now less than a month later, the SEC filing dated Sept. 27 shows that an additional wave of investigating has increased the amount raised to almost three-quarters of a billion dollars.
The San Francisco Business Times reported that the nearly $200 million comes from 15 unnamed investors. According to the SEC filing, Morgan Stanley & Co. will collect an estimated $4 million from brokering those deals. Forbes estimates that Palantir is now worth anywhere from $5 to $8 billion.
Given the government's well-documented ties to Palantir and the company's arsenal of powerful spy products, the latest news suggests that the surveillance industry will stay afloat even amid the scandal surrounding leaked National Security Agency documents and the related disclosures detailing the US intelligence community's far-reaching capabilities.
Palantir has managed to keep a relatively low-profile since its founding nearly a decade ago, but last month's Forbes cover story by Andy Greenberg and Ryan Mac helped hone in slightly on the shadowy company. The journalists linked Palantir to the NSA, the Federal Bureau of Investigation and the CIA's venture fund, In-Q-Tel, along with what the writers called "an alphabet soup of other US counterterrorism and military agencies" who have become clients over the years.
In fact, In-Q-Tel was one of the first groups to help get Palantir off the ground thanks to early investing, and Bloomberg reported recently that other clients of the Silicon Valley-company with a DC-area office and others around the globe include the New York and Los Angeles Police Departments. Aside from the CIA subdivision, other early investors in Palantir include Peter Thiel, the former PayPal CEO who dumped half a million dollars into Facebook the same year that the surveillance company came into being.
Other customers include Bank of America and Rupert Murdoch's News Corp., Forbes reported, and those private-sector deals now make up around 60 percent of the company's revenue.
Perhaps the project that caused the most commotion about the company was one that never managed to get off the ground, however. In 2011, hacktivists with the Anonymous collective linked Palantir to "Team Themis," a partnership that also involved contractors HBGary and Berico that was created to help discredit WikiLeaks and its supporters, including writer Glenn Greenwald. It was foiled by Anonymous before ever set in motion, and Palantir CEO Alex Karp eventually offered an apology and attempted to distance his company from the controversy.
But even as concerns continue to grow over who has the ability to collect and information — whether it be law enforcement agencies, offices within the intelligence community or just well-funded corporations determined to make big bucks off big data — Palantir is apparently only on the up. Previously, Karp told Forbes that his company could sign $1 billion in contacts during the next calendar year if everything adds up in his favor.
"Palantir sells a powerful line of data-mining and analysis software that maps out human social networks for counter-intelligence purposes, and is in huge demand throughout government and in the financial and banking industries," Tim Shorrock, a writer who primarily investigates government contractors, wrote on his website earlier this year. "The NSA, which intercepts and analyzes global communications traffic, is a highly likely client as well," added Shorrock, who included an excerpt from a 2009 Wall Street Journal article in which Palantir was lauded as "the darling of the intelligence and law enforcement communities."
Since then, the LAPD and NYPD have both relied on Palantir's technology to assess data collected from the license plate scanners that are quacking becoming commonplace on cop cruisers across the country. According to Forbes, Palantir makes it possible for NYPD officers to search a database of around 500 million plates in about five seconds. In recent weeks, of course, unauthorized national security disclosures attributed to former contractor Edward Snowden have revealed that the US intelligence community has been collecting and analyzing information about American citizens' social networking and Internet behaviors using software undoubtedly not dissimilar to products made by Palantir.
You can share this story on social media: