In North Carolina, battle for votes turns to emails & courts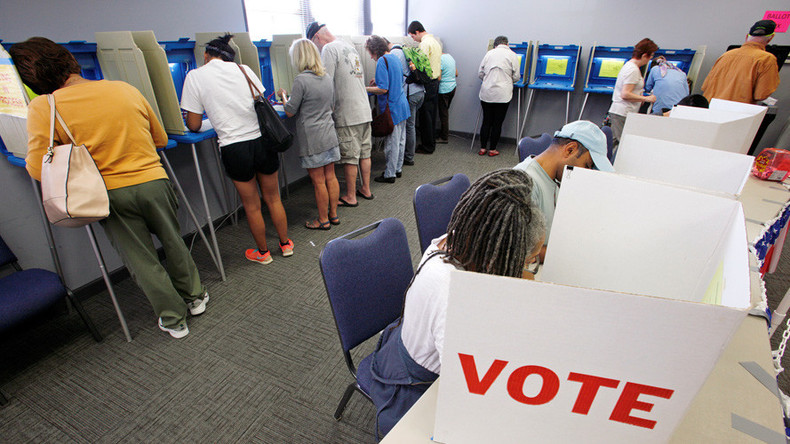 Democrats are accusing Republicans of voter suppression in the key battleground state of North Carolina, citing purges of voter rolls in three counties and emails from state GOP officials opposing longer hours for early voting stations.
With Hillary Clinton and Donald Trump virtually tied in the state's polls, both parties are stepping up efforts to win North Carolina's 15 electoral votes. Trump is scheduled for two appearances in the state Thursday evening, while President Barack Obama stumped for Clinton in Chapel Hill on Wednesday.
"The fate of the republic rests on your shoulders," Obama told the crowd.
"If Hillary wins North Carolina, she wins," @POTUS tells NC rally. "That's why I said the fate of the Republic rests on you."

— Mark Knoller (@markknoller) November 2, 2016
Early voting numbers showed decreased turnout among the Democrats, compared to 2012, leading some to accuse their Republican rivals of suppressing African-American votes. Emails from state Republican officials showed resistance to expanding early voting locations and hours, Reuters reported Thursday.
The agency cited an August 11 email from Elaine Hewitt, a Republican official in Rowan County, which included two proposals for setting up early voting, neither of which included Sundays.
"With all of the opportunities to vote by mail, early in person Monday-Saturday, and on Election Day, there is no justification for requiring election workers to work on Sundays," Hewitt wrote.
Republican opposition to Sunday voting was not an effort to discriminate against African-Americans, but motivated by belief that people should not be required to work on Sundays, North Carolina GOP executive director Dallas Woodhouse told Reuters.
"We currently have more early voting locations and hours open than ever were open under Democrat control," Woodhouse said. North Carolina does have 78 more early voting sites and 5,900 more early voting hours than in 2012, Reuters noted, citing state records. Those records also showed that counties won by Obama in 2012 have increased their Sunday voting hours by 16 percent, while Republican-leaning counties decreased them by almost a quarter.
On Wednesday, a federal district judge heard arguments from the National Association for the Advancement of Colored People (NAACP) and state lawyers regarding a lawsuit brought by the NAACP on Monday, alleging voter suppression in Cumberland, Moore and Beaufort counties.
Court documents filed show that almost 5,600 voters were stricken from the rolls in Cumberland, 790 in Moore and 63 in Beaufort. State lawyers said that fewer than 7,000 voters out of the 6.8 million registered voters statewide were purged because of challenges.
"It almost looks like a cattle call, the way people are being purged," US District Judge Loretta Biggs told Cumberland County attorney Rick Moorefield, according to the Associated Press. Several times in the course of the hearing, Biggs described the challenge process as "insane" and told state lawyers that it "sounds like something that was put together in 1901." She did not make a ruling in the case, however.
On Tuesday, it looked like early voting by African-Americans in North Carolina was lagging behind the 2012 numbers by 13 percent.
"I have to think at this point it's the top of the ticket," Catawba College political scientist Michael Bitzer told CBS. "Without Barack Obama on the ballot, black voters may not have that necessary energy and enthusiasm."
By Thursday, however, the gap seemed to disappear.
In-person early voting in NC counties are now all in line with 2012; last week's laggards have caught up, despite reduced EV locations. pic.twitter.com/Q1MqYRlX9k

— Charles Stewart (@cstewartiii) November 3, 2016