FBI sees no proof of Trump-Russia ties – NYT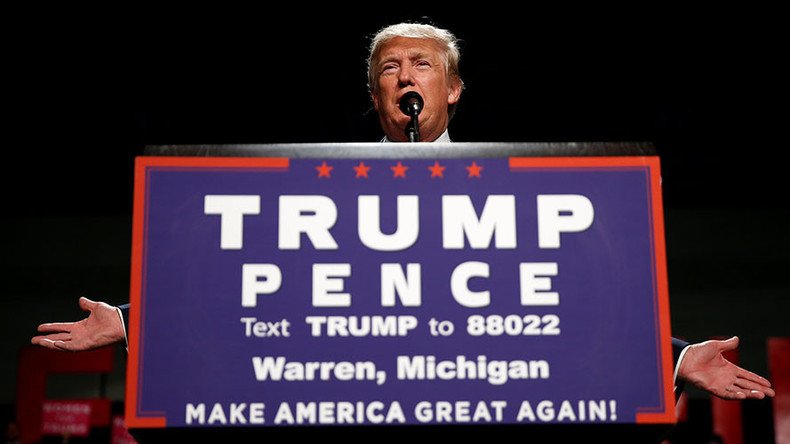 FBI officials say their investigation into links between US Republican presidential nominee Donald Trump and Russia has been unable to uncover any so far, according to the New York Times.
The bureau has been trying to find evidence showing that the Russian government is trying to influence the US presidential campaign since the beginning of summer. FBI agents have put advisers close to GOP candidate Donald Trump under close scrutiny, searching for financial connections that some have alleged exist between the nominee and Russian financial figures. They even followed up on a lead hinting that there had been a secret email correspondence between Trump's Organization and Russia's Alfa-bank. All the while, the bureau has been searching for the hackers that breached the computers of the Democratic camp and leaked emails that became the source of many scandals damaging to Democratic candidate Hillary Clinton's campaign.
Nonetheless, the FBI still cannot say that any of its investigations have uncovered direct links between Trump and Russian authorities, the New York Times reported on Monday, citing recent interviews and its own bureau sources.
"No evidence has emerged that would link [Trump] or anyone else in his business or political circle directly to Russia's election operations," writes the NYT.
Officials also anonymously told the NYT that whoever the hackers were, the attacks were aimed at disrupting the presidential race on the whole, and not boosting Trump's chances of getting into the Oval Office, as the Western media and Democrats have been claiming.
In explaining why Russia would want to interfere in the campaign, one senior official was cited as saying, "It isn't about the election… It's about a threat to democracy."
The FBI's inquiries will continue, however. In interviews over the past several weeks, intelligence officials have signaled that they have opened a larger probe to look into suspicions over connections between Trump aides and Moscow.
READ MORE: Brazile out at CNN after WikiLeaks reveals she gave debate questions to Clinton camp

In the most recent lead, an anonymous computer scientist going by the name Tea Leaves found some 2,700 "look-up" messages that tied a server being used by one of Donald Trump's companies to those of Russia's Alfa Bank.
Still, the FBI found that there was no two-way communication, and these messages could have been marketing emails or spam. Both the Trump campaign and Alfa Bank issued statements denying that they had been in communication.
The FBI is also probing Trump's former campaign manager, Paul Manafort, whose foreign business and political dealings have come under scrutiny since reports surfaced claiming he was involved with a pro-Russian political party in Ukraine, NBC reported, citing intelligence sources.
'Russia hacking' vs Clinton emails
A separate report from CNBC citing a former FBI official claims that the bureau's director, James Comey, was privately reluctant about naming Russia as the entity responsible for meddling in the US election campaign, reportedly saying it was too close to the November 8 Election Day.
In the beginning of October, Comey allegedly concluded that "a foreign power was trying to undermine the election," but arguing against putting it out before the election itself.
He also allegedly made sure that the Federal Bureau of Investigation was not mentioned in the document compiled by the US government on October 7, which officially accused Russia of "authorizing" the hacking of emails accounts of US officials and organizations, out of concern that the FBI would be seen as interfering with the election if it was included.
However, last Friday, with the election mere days away, Comey announced that the bureau was reopening its investigation into Hillary Clinton because several hundred thousand new emails that may be related to the private server used by the Democratic nominee had allegedly been discovered.
The announcement, which left many in the government puzzled, has already resulted in official complaints and attacks from the entire US political spectrum. On Monday, some 100 former federal prosecutors and senior Department of Justice officials, including Attorney General Eric Holder, signed a letter expressing concern over Comey's decision to reopen the case "on the eve of a major election," as "the mere disclosure of information may impact the election's outcome" at this stage.
Clinton's supporters have accused Comey of deliberately hiding "explosive" information about Trump's alleged ties to Russia, demanding that he discuss them publicly, just as he did with the new batch of Clinton-related emails.
Hillary Clinton and her supporters have repeatedly criticized Trump for praising Russian President Vladimir Putin, while Trump has retorted that he has "nothing to do" with Russia and doesn't know its leader personally.
Putin on accusations of meddling: 'rubbish'
Russia, in turn, has denied having any links to the Trump camp on numerous occasions, while refuting accusations that it had been behind the hacking attacks on the Democrats, with Russian President Vladimir Putin calling them "rubbish" last week.
"The image [that Russia supports a candidate in the US presidential election] was created by the media," Putin said at the Valdai Discussion Club in Sochi last Thursday, stressing that this had been done deliberately.
"This is complete and utter rubbish, and it is just a method of internal political struggle, as well as a way of manipulating the public consciousness ahead of the US presidential elections," he added, while explaining that Russia does not prefer any particular candidate and is ready to work with either of them. Russia's president also stressed that friendly words and intentions to normalize relations between the US and Russia are always welcome, "whoever expresses them."
You can share this story on social media: