Tribe leaders vow to protest Dakota pipeline through winter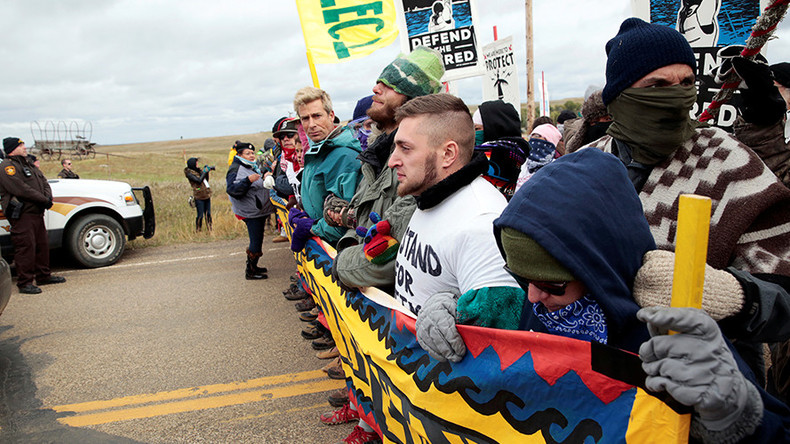 Leaders of the Standing Rock Sioux tribe say they'll keep protesting against the Dakota Pipeline through the coming winter months, building shelter and providing their supporters with food and heating.
Native American leaders dug in their heels on Saturday, saying they will protest all winter against the North Dakota oil pipeline (DAPL), which would violate sacred tribal lands and might damage water resources in the area.
"Let's reroute the pipeline. It doesn't have to put our water at risk," Standing Rock Sioux Chairman Dave Archambault II told reporters. He was joined by Cheyenne River Sioux Chairman Harold Frazier.
Native Americans opposing the construction of the pipeline will erect some sort of "permanent structures" to provide protesters with heat, food, and shelter during the wintertime, with temperatures as low as -37 Celsius (-35 Fahrenheit). About 10 shelters will be constructed on tribal grounds.
"We're just working through some technical details as far as where the land is, and the type of land that can be used for some permanent structures," Archambault said.
There have been months of protests over the $3.78 billion, 1,172-mile Dakota Access Pipeline. The Standing Rock Sioux tribe claims that it would destroy sacred grounds and put at risk the region's water supply in case of leaks. DAPL is planned to pass near the tribe's reservation.
Earlier this week, there were violent encounters between police and protesters. More than a hundred people were arrested. Protesters accused the police of using abusive tactics, including spraying mace and detaining people in dog kennels.

"Militarized law enforcement agencies moved in on water protectors with tanks and riot gear," Archambault said. "We continue to pray for peace. We call on the state of North Dakota to oversee the actions of local law enforcement to, first and foremost, ensure everyone's safety."
The Morton County Sheriff's Department condemned the events as "a riot," while protesters called their actions a "prayer walk near ancient burial sites."