'Dakota pipeline is about big money, not indigenous people rights'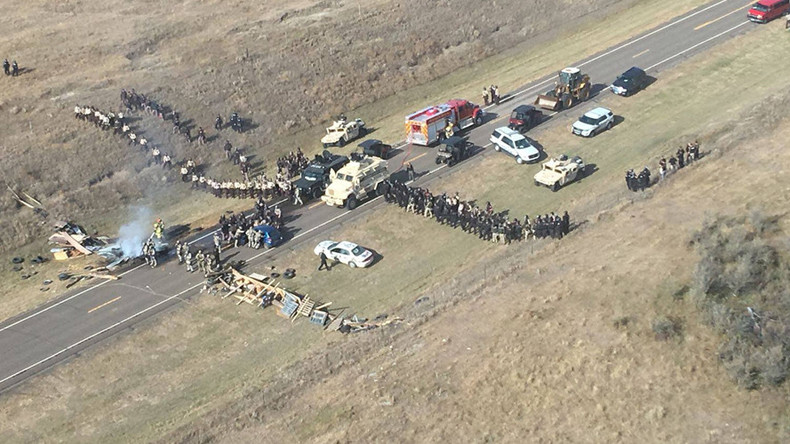 When it comes to the rights of people of color in the US, government officials often side with corporations and Wall Street, said Solomon Comissiong, founder of the Your World News' Media Collective. The same is happening with North Dakota protests, he added.
At least 141 Native Americans and other protesters were arrested in North Dakota in a clash with heavily armed US police officers. Demonstrators were camping on private grounds in an effort to halt the construction of the Dakota Access pipeline.
The Morton County Sheriff's Department said pepper spray and armored vehicles were used to scatter the protesters.
The demonstrations against the construction of the pipeline have been going on for months, and at times have been dealt with violently by police. However, the issue has received little media attention. RT asked analysts why that could be.
"When it comes to people's rights, especially indigenous rights, and rights of people of color in this country, the rights of poor people, that the government – whether it's local governments, state governments, or the national government – often times they side with corporations, with finance capital, Wall Street. So I think that is what's going on right now. They are siding with this large company, this corporation," said Solomon Comissiong, founder of Your World News' Media Collective.
Authorities are "marginalizing" rights of indigenous people "whose land it is" and it was theirs in the first place before it "was ripped away from them, when this country was stolen from them."
"It comes down to big money – it doesn't come down to their rights. It's par for the course when it comes to the government, government officials, and the non-action that they are taking in terms of not protecting the rights of these indigenous people in the first place," Comissiong told RT.
Native American resistance growing stronger
The Dakota Access pipeline protest was largely ignored by the mainstream media because "it conflicts with the dominant narrative of the media, which likes to present this false allegation that Native Americans have been extinguished in this country," said historian Gerald Horne.
However, he said, Native American resistance is growing stronger by the day.
"One of the striking characteristics of what's happening in North Dakota is that not only has the Standing Rock Sioux nation rallied to this cause, but Native Americans from the Atlantic to the Pacific have all descended upon North Dakota in order to express solidarity. This is a very important political development that the mainstream media would prefer to ignore," Horne added.
Police used equipment same to that in Iraq, Afghanistan
William Griffin, of the Veterans for Peace organization, visited Standing Rocks a week before the protests broke out.
"The protests have been going on more than a week, for months now. They all have been nonviolent; peaceful prayer ceremonies showing nonviolent direct action against this pipeline. I was there for 11 days; I just got back a week ago. Never did I see any weapons, never did I see any drugs; everyone called each other 'brother' or 'sister'," he told RT.
Police in riot gear used pepper spray and armored vehicles while dispersing protesters at Standing Rock.
"This is a part of the national problem we have in the US – the militarization of police forces. Me being an Iraq and Afghanistan veteran, I recognize a lot of the same equipment that I used in Iraq and Afghanistan, which is built and made for combat zones – when you're fighting an armed enemy. Now, again these people were peaceful, nonviolent, they have no guns on them – I see MRAPs – Mine-Resistant Ambush Protected vehicles out there; I see officers with military grade body armor, rifles," Griffin said.
The campaign headquarters of Hillary Clinton in Brooklyn, New York, was taken over Thursday by protesters against the Dakota Access pipeline who demanded the Democratic presidential candidate openly takes a position on the matter.
"There've been very few leaders in this country to abide and respect the wishes and lawful treaties of the Native Americans. And I would love to see Hillary Clinton and I call her out to speak about this issue; even visit and speak with the Natives. But I think we all know that it is highly doubtful that she will even mention this and anything anytime soon," Griffin told RT.
Chance for Obama to leave a better legacy
What is needed to address the situation "is real leadership," said Elizabeth Murray, veteran intelligence professional, writer and activist. Now that Obama is leaving office soon and is concerned about his legacy, this would be an opportunity for his administration to step up and cancel the pipeline project, she added.
"The chief of the Standing Rock Sioux tribe issued a very comprehensive media statement just today. The press release said that they continue to pray for peace; that they want the state officials to ensure that peace and justice prevail," said Murray.
Murray said that the statement repeated its call on President Barack Obama to send observers from the Department of Justice to the Dakota Access pipeline friction areas "to make sure that people's First Amendment rights are being respected, and to make sure that no harm is done to the people who are protecting the water for their future generations."
"If harm comes to any of the people who have traveled from all around the world to join them in solidarity there against the Dakota Access pipeline that it would be on Obama's watch that this happens. And that is absolutely right," she said.
The statements, views and opinions expressed in this column are solely those of the author and do not necessarily represent those of RT.