'Undersea supremacy': US commissions $2.7bn nuclear submarine 'Illinois'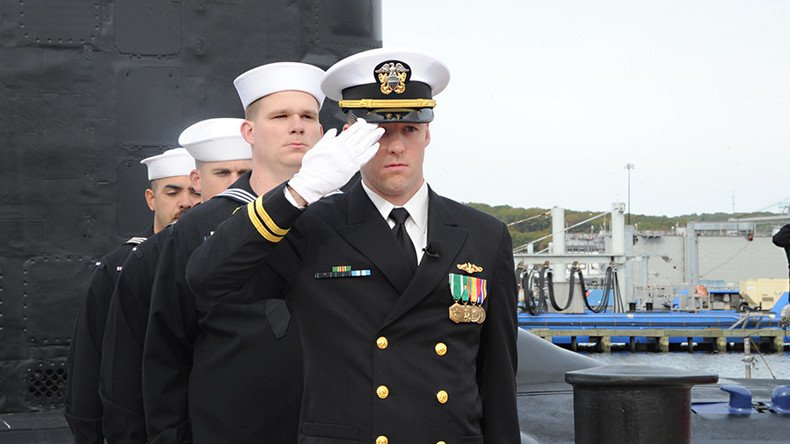 The US has officially welcomed its latest Virginia class nuclear submarine to the fleet, which the Navy believes has the capabilities required to maintain the US "undersea supremacy" in the 21st century.
The Navy called the 'USS Illinois' the "next-generation attack submarine" when the ship was commissioned Saturday in Groton, Connecticut.
The $2.7 billion black behemoth is the 13th ship in the Virginia class of attack submarines to be included in the US fleet of just over 70 subs stationed around the globe. The vessel weighs nearly 8,000 tons and is slightly longer than a football field at 114.9 meters (377ft) in length. It has a 10.3 meters diameter and accommodates a crew of over 130.
The sub is designed to be able to dive more than 240 meters below the surface and reach speeds of 25 knots per hour. It is t armed with Tomahawk cruise missiles and MK-48 heavyweight torpedoes that carry 650lb (295kg) high-explosive warheads.
The technical characteristics allow the nuclear-powered submarine to participate in the near-shore and deep-water missions including, anti-submarine warfare.
The boat can also be deployed to engage in the anti-surface ship and counter-mine warfare, as well as support surveillance, special operations and covert strike missions.
"'USS Illinois' is one of the most technologically-advanced platforms in the world," said Ray Mabus, secretary of the Navy ahead of the ceremony. "This submarine represents not only the Navy's lasting connection to the state of Illinois, but also the American innovation and manufacturing skill that have given us such a powerful advantage, making us the most powerful expeditionary fighting force the world has ever known."
At the ceremony, US first lady Michelle Obama, sponsor of the submarine, gave the order to "man our ship and bring her to life," before the seamen mounted the underwater vessel.
The history of Virginia class nuclear submarines stretches back to 1998 when the US Navy awarded a $4.2 billion contract to Electric Boat for the construction of the first four ships of the class.
You can share this story on social media: