Ship for Batman: US Navy commissions 'quantum leap' stealth destroyer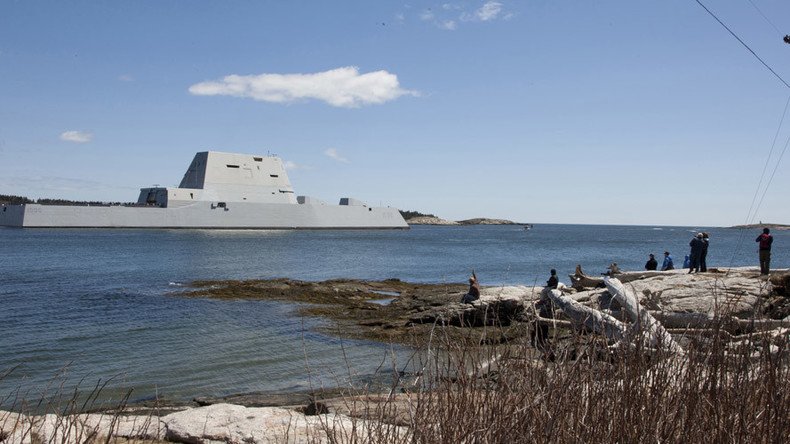 The latest addition to the US Navy, the USS Zumwalt, has joined the fleet. The technologically-advanced destroyer has been compared to the Batmobile by a top US general.
"If Batman had a ship, it would be the USS Zumwalt," said Adm. Harry B. Harris, Jr., commander of the US Pacific Command at the commissioning ceremony in Baltimore.
At more than $4 billion a vessel, the Zumwalt is a multi-mission stealth ship with a focus on land and surface attacks.
The 16,000-ton destroyer, named after former Chief of Naval Operations Adm. Elmo Zumwalt, is armed with twin 155mm Advanced Gun Systems, two Mk46 30mm guns, Standard and Evolved Sea Sparrow surface-to-air missiles, Tomahawk cruise missiles, vertical-launch anti-submarine rockets, and several .50-caliber M2 machine guns.
It can also carry two MH-60R Seahawk helicopters as well as MQ-8 Fire Scout unmanned aerial vehicles, SEAPOWER magazine reported.
The ship can fire 600 GPS-guided, rocket-propelled shells from its 80 missile tubes more than 70 miles away.
In addition to the gun systems, a key feature of the ship is its complex integrated power system (IPS) that uses the ship's gas turbine output to power an electrical grid, instead of a direct mechanical connection to the propulsion system. The ship generates about 78 megawatts of power – "enough power to power a medium- to small-sized city." It's almost as much as a nuclear-powered aircraft carrier.
Designed for a crew of 147, the 610ft (186m) warship features futuristic angular shapes which minimize its detection on radars, making it appear much smaller than it actually is.
"It's the first of a kind that's leading the way for new classes of ships, new capabilities that are in ships, new systems that we can use and it just expands the things we can do and the ways we do it," Ray Mabus, Secretary of the Navy, said at the ceremony, calling the Zumwalt "a quantum leap" for Navy ships.
The USS Zumwalt is designed to strike targets in a country like North Korea, according to Ron O'Rourke of the Congressional Research Service, CBS reports.
"With their guns, they could reach in from either side of the peninsula, pretty far in, to cover a large portion of the territory of the peninsula," O'Rourke is cited as saying.
USS Zumwalt (DDG 1000) is the lead ship of the trio in the $22-billion Zumwalt class. The Michael Monsoor (DDG-1001) and Lyndon B. Johnson (DDG-1002) are currently under construction.
After commissioning, Zumwalt will sail to its new homeport at Naval Station San Diego, California, before undergoing a combat system activation period ahead of joining Navy missions in 2018.
You can share this story on social media: