Man wielding knife fatally shot outside US Embassy in Kenya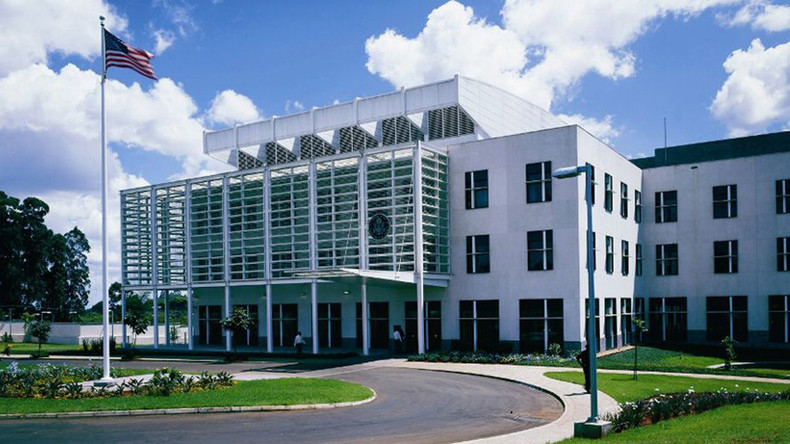 A man attacked an armed guard in front of the US Embassy in a Nairobi suburb in Kenya, and was shot to death in the street. No one from the embassy was injured in the attack, but the officer sustained injuries to the head and hand, officials said.
"There has been a shooting outside the embassy and a man is dead," a senior police officer told Capital News, and said he would provide more information later.
The man tried to stab a General Service Unit (GSU) officer who was guarding the entrance of the VISA section on UN Avenue in Gigiri. The GSU is a paramilitary wing of the National Police Service of Kenya.
"The man was shot after stabbing a GSU officer in the hand and left him with injuries," Gigiri Divisional Police chief Vitalis Otieno told Capital News. "The officer sustained injuries in the head and hand after the confrontation in which the attacker had tried to grab a gun from him."
Heavily armed officers immediately sealed off the road around the scene, and the investigation has already begun, Capital News reported.
The US Embassy confirmed the shooting and referred questions to Kenyan authorities. No embassy personnel were involved.
"The attacker is a male of Somali origin. The knife has been recovered, body (is) still at the scene," Otieno told the Daily Nation.
"We already know who it, he has been identified as a Kenyan from Wajir, but we cannot provide more detais at this time because investigations are underway," he told Capital News.
"It was a lone criminal who attacked a police officer, and in self-defense the officer shot dead this criminal," national police spokesman George Kinoti told Reuters, adding that the motive for the attack is under investigation.
US FBI agents are also present at the scene, AFP reported.
WARNING: Graphic video