'We are visible': 11 arrested after blocking New York bridge during morning rush hour (VIDEO)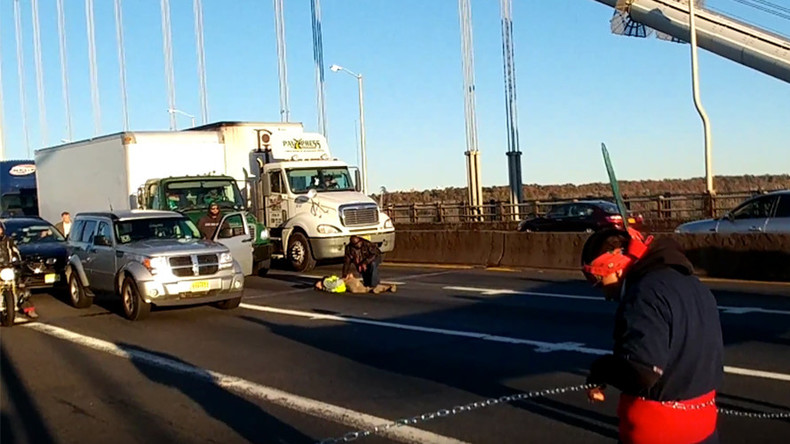 Eleven people protesting for immigrants' rights were arrested after they chained themselves to the George Washington Bridge's upper level and blocked all inbound lanes to Manhattan during rush hour, causing a 90 minutes delay.
On Wednesday morning, 11 protesters, members of #WeAreVisible, chained themselves to the George Washington Bridge, a major transit hub in and out of Manhattan, and unfurled a large banner which read "Resist, Organize, Act Up!" Traffic cameras showed bumper-to-bumper traffic barely inching along. The 15-minute protest caused a 90-minute traffic delay.
Drivers clashed with protesters in an effort to get the bridge open, according to witnesses.
"Get the f*** out of the road," yelled one driver. "I've got a job to get to!" as truck drivers honked their horns.
One driver ripped the banner from the protesters.
Confronting the drivers a protester yelled "You're a citizen, don't you give a f*** about people."
Another driver yelled "Get the hell out of here. Protest on your own time."
Police peeled off the protesters as they arrested the group of 11. The protesters are part of a new movement #WeAreVisible #SomosVisible, organized by the Laundry Workers Center, demanding political power for marginalized communities and equal rights for immigrants.
"As immigrant workers and an immigrant community we are tired of being in the shadows," Mahoma Lopez, co-director of Laundry Workers Center told RT. "As immigrants we contribute in many different ways to this country, paying taxes, consuming and building this country, but in order to be part of the decision-making process we are not able because we cannot vote."
Lopez said that if the US were a real democracy, everyone who lived there would be able to vote, including the undocumented, resident aliens, and those with prior misdemeanors.
The protest comes just two weeks before the election but Lopez said both candidates are a poor choice.
Lopez said Obama won the election last time round because of support from immigrants and the black vote, and through promises of immigration reform – although nothing happened except the Obama administration deporting more immigrants than in the entire history of the United States.
Lopez said there is a big rally in Union Square for Wednesday evening, and they are calling for a general strike on November 7.
"Basically don't go to work," said Lopez.