Oklahoma, Pennsylvania pipelines spill oil and gasoline over week-end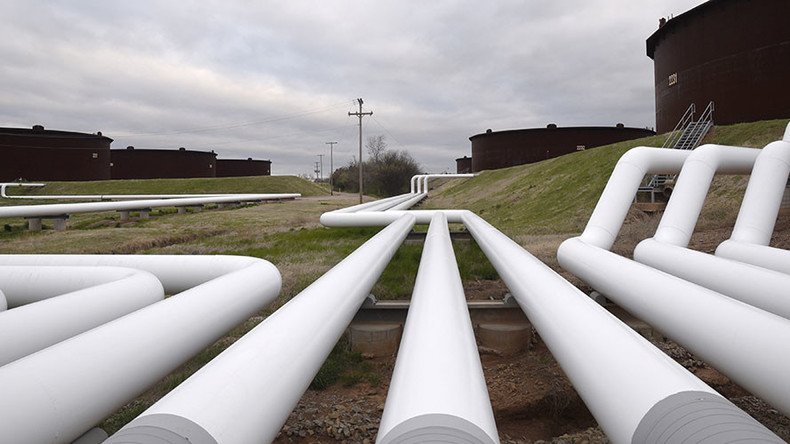 An oil spill in Oklahoma forced the shutdown of a major, 850,000-barrel per day pipeline system that supplies crude oil to Texas refineries. The incident follows another pipeline rupture in Pennsylvania, where 55,000 gallons of gasoline poured into a river.
As of Monday, the Seaway Crude Pipeline Co. has resumed pumping at its 450,000-barrel-a-day (bpd) Loop (twin) pipeline, which was shut down "as a safety precaution" following the spill at a parallel pipeline.
"Vacuum trucks are being used to recover the crude oil and return it to storage tanks onsite," the company said in a statement Monday, as clean-up operations continued.
The 400,000-bpd "legacy line" remained closed in the meantime, but Seaway hopes to bring it back "as soon as possible."
"The impacted segment of the legacy pipeline has a capacity of 50,000 barrels," the company said without providing the actual amount of the crude oil that spilled. The company says that the total won't be assessed until recovery efforts are complete, but expects that amount of released oil will be "significantly less" than the pipeline's capacity.
Most of the crude oil spilled has been contained in a retention pond at a facility owned by Enbridge Inc, a company that shares 50 percent of the Seaway Crude Pipeline Company with Enterprise.
Seaway has also said that there was "no fire or injuries" resulting from the spill and that there was threat to the public.
The spill in Oklahoma came less than two days after an incident in Pennsylvania, which resulted in 55 gallons (or 1,300 barrels) of gasoline seeping into the Susquehanna River in Lancaster County on Friday.
The 8-inch (20-cm) Sunoco pipeline began leaking in Gamble Township, Lycoming County, at about 3:00am on Friday. Pennsylvania American Water warned customers to reduce water use as the leak threatened drinking water. The "conservation notice" was lifted on Sunday.
"The company started to resume normal operations Saturday afternoon after testing of source water along the Susquehanna River found no detection of gasoline near the Milton Treatment Plant's raw water intake," Pennsylvania American Water said in a statement, warning that water could be "discolored or cloudy" in some areas.
Both spills come at a sensitive time, as debates between environmentalists and energy companies gains momentum.
Concerns of pipeline safety and impact on people's' lives have been among top reasons for a months-long protest against the Dakota Access pipeline (DAPL).
The Standing Rock Sioux tribe has been insisting that the planned to route the four-state line underneath the Missouri River would potentially damage its drinking water.
The tribe also says the construction, led by the Dallas-based Energy Transfer Partners, would damage several areas of "significant cultural and historic value."
You can share this story on social media: