Faculty at 14 Pennsylvania state schools go on historic strike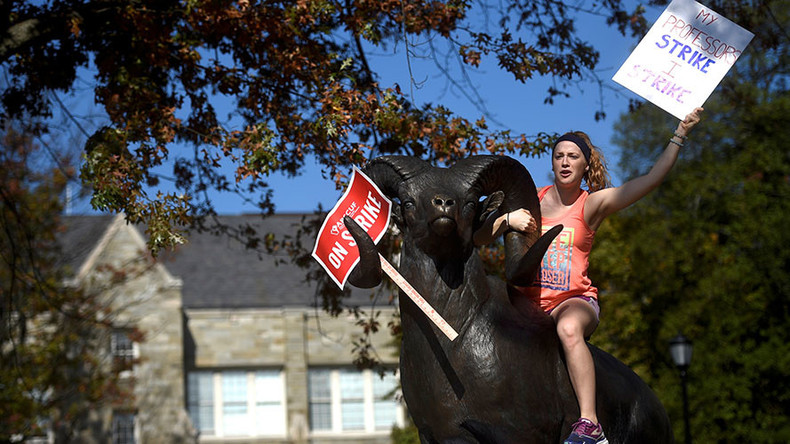 Faculty and coaches at more than a dozen state universities in Pennsylvania have been working for 477 days under an expired contract, and they've had enough. They've begun a historic strike over proposed raises and health care contributions.
Around 8:45 pm on Tuesday, Pennsylvania's State System of Higher Education offered its "last best offer" to the Association of Pennsylvania State College & University Faculties (APSCUF), the union representing about 5,500 faculty and coaches at 14 universities in the state system.
APSCUF waited until the negotiation deadline set by the governor. At 5 am on Wednesday, they went on strike for the first time in the system's 34 years.
"At 11:35 p.m., we made a last attempt to negotiate through back channels," APSCUF President Dr. Kenneth M. Mash said in a statement. "We waited until 5 am. We are headed to the picket lines, but even on the picket lines, our phones will be on, should the State System decide it doesn't want to abandon its students. They'll know where to find me at 5:30 am. I'll be outside the chancellor's office at the Dixon Center on the picket line."
The strike affects more than 100,000 students at Bloomsburg, California, Cheyney, Clarion, East Stroudsburg, Edinboro, Indiana, Kutztown, Lock Haven, Mansfield, Millersville, Shippensburg, Slippery Rock, and West Chester Universities. Students should still head to class unless their school tells them otherwise, but many classes are expected to be cancelled.
Negotiations had been ongoing since the APSCUF contract expired last June. The two sides had met for the last five days, but couldn't reach an agreement.
"We were hopeful the union would accept the proposal so that our students could resume their normal routines, and go back to worrying about their next test rather than whether their professor would be in class," State System spokesman Kenn Marshall said in a statement.
Democratic Governor Tom Wolf expressed his disappointment in the breakdown of talks, pointing out that he had increased funding to the state system by more than $30 million during his less than two years in office.
"The shortsightedness on both sides is counter to my efforts on behalf of the system and hurts the dedicated professors and university staff, and students and their families who are paying tuition to these universities," Wolf said in a statement. "Everyone's top priority should be the students and their families who are counting on an agreement to ensure Pennsylvania continues to deliver on its promise to provide a world-class college education. I urge both sides to return to the table immediately and continue negotiations until an agreement is reached."
The state system has offered nearly $160 million in raises, an almost 12 percent increase, the Pittsburgh Post-Gazette reported. For its part, the union offered for its members to pay higher insurance among its concessions.
APSCUF rejected the offered healthcare package, which was identical to that of other state employees, Marshall said.
"We don't understand how APSCUF can argue that faculty members should be entitled to a better health-care plan than our other employees," he told the Philadelphia Inquirer.
The plan called for faculty to pay an additional $7 to $14 every two weeks in insurance premiums, with their share going from the current 15 percent up to 18 percent. The union argued that the raises of 7.25 percent to 17.25 percent over the course of the four-year contract would be eaten up by the increased healthcare costs.
Management and the union have come to tentative agreements on more than a dozen issues, including distance education, recruitment and retention of faculty, and professional responsibility outside the classroom, according to the Inquirer.
Base salaries range from $46,609 for first-year instructors to $112,238 for experienced full professors who have maxed out the 13 pay steps. The salaries do not include any extra courses or summer work done by the faculty.
In-state tuition for undergraduates from Pennsylvania, set by the board of governors, is just over $7,200 a year. However, four of the 14 State System schools use a per-credit price system, which allows tuition to be higher than the set price.
Students have joined their instructors on some of the picket lines, even though classes weren't cancelled.
"There are several students at one of our other access points," Swarn Gil, an associate professor of earth sciences at California University of Pennsylvania and an APSCUF member, told the Post-Gazette. "Those students brought water and snacks for the faculty, which was nice."
Although the 14 schools planned to continue holding classes through the strike, they did not have any plans to bring in replacement instructors, the Post-Gazette reported.
Extracurricular activities, including sports, are not expected to be cancelled due to the strike, as the system's coaches are in a separate bargaining unit, according to the Inquirer. They have not yet set a strike date. Sports will be affected, however, as athletic trainers and other personnel are part of the striking faculty union.