It came from Hurricane Nicole: 14lb lobster caught in Bahamas (PHOTO, VIDEO)
Published time: 18 Oct, 2016 20:10
Edited time: 19 Oct, 2016 12:42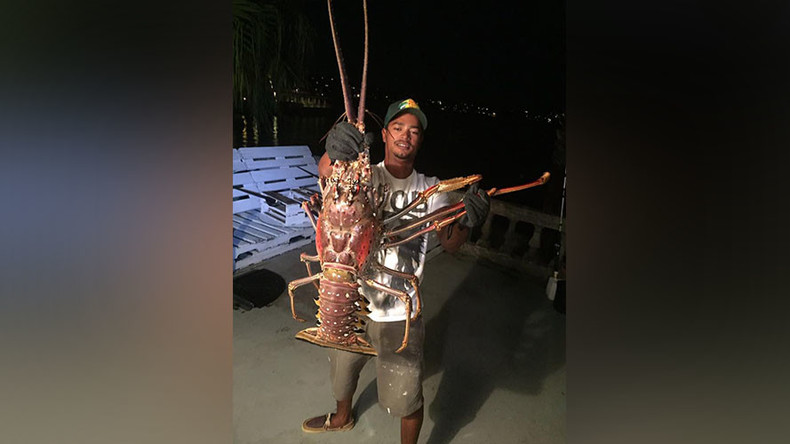 Fishermen in Bermuda caught more than they bargained for when they accidentally reeled in a 14 lb (6.3kg) lobster. While they were looking to snatch snapper, the charter boat stumbled across the monster that may have been dredged up by Hurricane Nicole.
Sanctuary Marine Bermuda's charter fishing boat had quite the catch on Saturday when the monster lobster was caught with a hook line. Pictures of it were posted to Facebook with the caption, "Hurricane Nicole blew in some sea monsters."
Hurricane Nicole approached Bermuda last Thursday, but never actually made landfall. However, the storm had reached Category 4 status Wednesday night and was expected to raise water levels by 6 to 8 feet, WPIX reported.
While the lobster may appear to be a meal fit for a king, Sanctuary Marine Bermuda wrote that the lobster was released after its photo shoot. Despite its daunting appearance, the lobster caught in Bermuda is not the largest lobster on record. In fact, it's less than one-third of the size of the one listed in the Guinness Book of World Records, which weighed in at over 44lbs (20 kg).
Many Facebook users weighed in on the lobster's potential taste and quality, but it wasn't that long ago since lobsters were barely fit for prisoners to meat. Lobsters are bottom feeders that will eat virtually anything, which made a bad first impression on the first settlers in New England who reported seeing them wash up on shore regularly.
British history William Wood visited Newfoundland in the 17th century and wrote: "Their plenty makes them little esteemed and seldom eaten [except by the Indians who] get many of them every day for to baite their hooks withal and to eat when they can get no bass."
In fact, lobster meat gained such a bad reputation that one 18th century Kentucky politician wrote: "Lobster shells about a house are looked upon as signs of poverty and degradation."
Times surely have changed, as the market rate for lobsters over 6lbs is $9.99 per pound.