Air Force investigates outage of secret computer network at its major drone base – report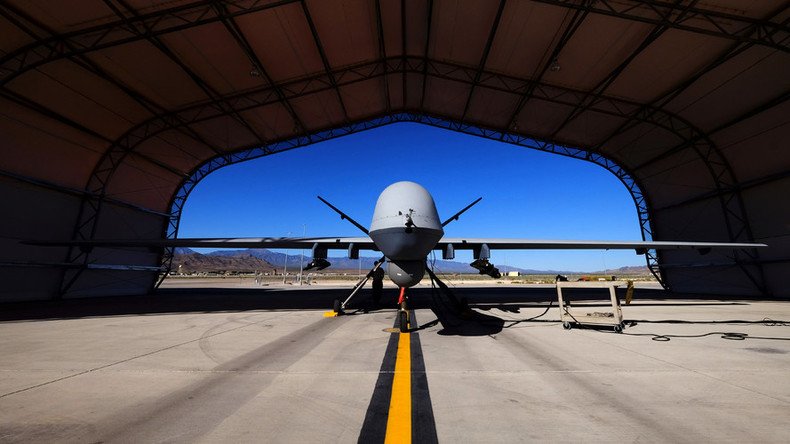 The US Air Force is reportedly looking into a computer system outage at a base it uses to operate armed drones over Afghanistan, Pakistan and Syria. The failure could be linked to a number of fatal battlefield incidents days after it was revealed.
However, the Air Force has kept silent, refusing to publicly elaborate on either the outage or the possible impact it had.
When contacted by BuzzFeed News, military spokesman Major Malinda Singleton only said that "the investigation into the issue is ongoing."
The system failure dates back to September 9, but was only discovered nearly a month later from a contractor notice from the government.
The Air Force posted a bid on FedBizOpps, the government's primary tender market, on October 7, saying that "the SIPRNet system currently in operation at Creech AFB failed and critical services were impacted."
The notice read that the services were "somewhat restored" and stabilized via "multiple less powerful devices," but help was need to upgrade the system.
SIPRNet stands for the Secret Internet Protocol Router Network, a "hidden" intranet that lets the Department of Defense exchange classified information, intelligence, data on strategic targets and more.
The network is essential for Nevada-located Creech Air Force Base, a "launch pad" for America's armed drones, such as Predators and Reapers, which the US military operates over Syria, Pakistan, Afghanistan and elsewhere.
READ MORE: Fear the Reaper: Air Force to spend $370mn on drones
Coincidentally or not, the outage was followed by a number of drone-involved incidents, in which dozens of people, both soldiers and civilians were killed.
On September 17, an airstrike by the US-led coalition hit Syrian government forces' positions near the eastern city of Deir ez-Zor, killing 62 troops and wounding over 100 during a ceasefire.
At the time, US Central Command said that there had been no intention to strike the Syrian military unit and promised to investigate.
Nearly 10 days later, on September 28, a US military airstrike designed to target Islamic State militants in Nangarhar in eastern Afghanistan killed at least 15 civilians and injured another 13.
On the same day, another US drone strike, but in Somalia, killed 22 local soldiers and civilians.
While all those strikes are being investigated, according to the US government, the Air Force spokesperson rejected any possibility that they could be linked to the outage.
"If there are any issues on a SIPR network, it would not disrupt flight operations," Singleton told BuzzFeed.
READ MORE: 'Game of Drones': RT documentary meets victims & executioners of deadly US attacks in Pakistan
At the same time, former Pentagon official Michael Maloof told RT that the failure could have played a role in those attacks.
"The timely flow of information, especially if you are talking about targeting information, can be delayed, and as a consequence they miss the opportunity or they may have had information, which was two or three days old and they hit that location and that group may have moved, such as in the case with the Syrians," Maloof suggested. "If things are moving in real time, then you need to have information flow in real time, and if there is a delay, even for a day, that can be costly."
In its report, BuzzFeed also pointed out that on the day SIPRNet crashed at Creech AFB, the Air Force announced a surprise cybersecurity inspection, warning its staffers about phishing attacks and urging everyone to be careful in securing their login credentials. The inspection was set to start "as early as October."
However, Maloof does not believe the outage last month could have been a consequence of a hacker attack on the system.
"It probably was more technical than anything, because the system is used extensively – two departments, including the Intelligence Committee use [it] around the world," he said. "I doubt that it was hacked, because of the algorithms that are used in the SIPRNet."
You can share this story on social media: