Emails show State Dept. helped Clinton Foundation donors get contracts for 2010 Haiti quake — report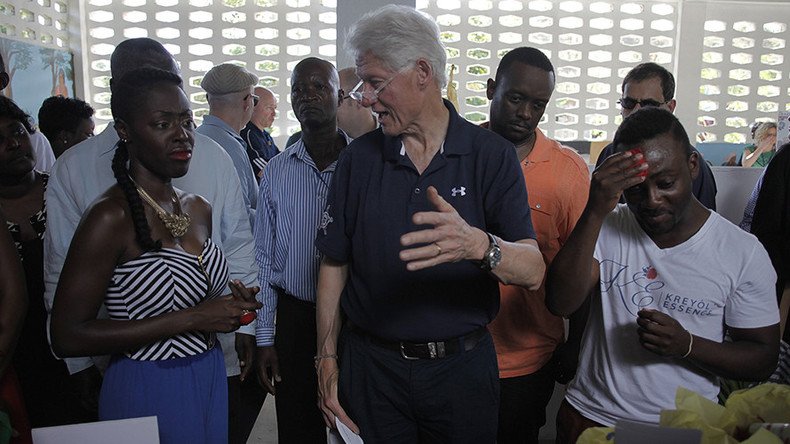 International efforts to help Haiti following the 2010 earthquake have come under scrutiny recently, specifically those involving the Clinton Foundation. By combining aid groups and the private sector, the foundation may have given its friends special treatment.
Emails released by ABC News show that the State Department assisted friends of the Clintons in facilitating government contracts and aid groups. Friends of Bill Clinton were flagged for special treatment by the State Department, while others who offered aid were redirected to a general government website.
One example is billionaire and Clinton Foundation donor Denis O'Brien. When the 2010 earthquake hit, his Jamaica-based telecom firm Digicel wanted to fly supplies into Port-au-Prince and get his employees out.
An email from Amitabh Desai, the director of foreign policy for the Clinton Foundation, had the subject "Close friend of Clintons" and referred to Bill Clinton by his initials WJC.
"This WJC VIP just called again from Jamaica to say Digicel is being pushed by US Army to get comms back up but is not being cleared by [the U.S. government] to deploy into Haiti to do so," Desai wrote.
The request was then pushed up the chain of command by the email's recipient, Caitlin Klevorick, a senior State Department official at the time.
O'Brien defended the email, telling ABC News, "I don't see any problem contacting anybody in the United States if I'm bringing in emergency aid where people are dying on the street because of lack of medical attention."
"I make no apologies for that," he added.
The Clinton Foundation has released a statement in response to ABC News that denied any wrongdoings, saying, "These e-mails were sent to pass on to the U.S. Government and U.N. the hundreds of incoming offers for help for those entities to handle as they deemed appropriate," and, "The alternative would have been to do nothing to mobilize resources."
In addition, a large building industrial park was built with Clinton Foundation money and became home to many businesses that donated to the Clinton Foundation, such as Gap and SAE-A, a Korean garment company that became the anchor tenant of the park, according to ABC News.
Hillary Clinton was still the secretary of state when the park opened in 2012. At the opening ceremony, both she and Bill gave special thanks to Clinton's chief of staff Cheryl Mills.
"I want to thank our friend Cheryl Mills because it was her determination, her sheer will to work through every obstacle that made this possible," Bill Clinton said.
Hillary also praised her, saying "my chief of staff, Cheryl Mills, who has been, as others have already said, a real driver of our government's support for everything that we see here today."
However, Mills left the State Department in 2013 and was later pictured at a SAE-A company event in Costa Rica where she represented the Black Ivy Group, a firm that prides itself on building commercial enterprises in sub-Saharan Africa and focuses on "building and leveraging a vast network of global and local relationships spanning the public, private and government sectors."
One of the initial investors of Black Ivy was identified on their website as Woong-ki Kim, chairman of SAE-A, ABC News reported. That page has since been removed. The Clinton Foundation has denied any involvement in the decision to build the industrial park, recruiting SAE-A as its anchor tenant and denied persuading former donors to establish factories in the industrial park.
A statement from Bruce R. Lindsey, chairman of the board of the Clinton Foundation, denies wrongdoings, saying, "the Clinton Foundation did not have a role in building the Caracol Industrial Park and has never invested any funds into the park."
You can share this story on social media: