Church faces daily $100 fine for housing homeless on its lot, battles with neighbors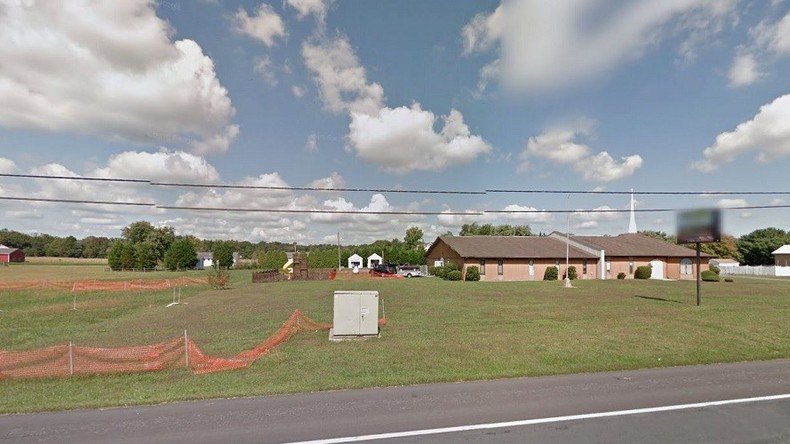 While helping the homeless may be God's work, housing them on property not zoned for it isn't, according to one Delaware county. Victory Church near Dover is racking up $100-a-day fines for housing a young, blind mother in an RV in its parking lot.
Alexis Simms, 21, is blind, pregnant and suffering from lupus. At the end of September, Victory Church Pastor Aaron Appling, a passionate advocate for helping the homeless, bought a $10,500 camper for Simms, her mother and her 2.5-year-old daughter to live in. The RV is parked on church property behind the building.
"We want to stand up for her," Appling told WCAU. "Because there is nobody else to stand up for her."
The RV's placement didn't sit well with neighbors ‒ or the Kent County government. Last Tuesday, the Kent County Levy Court issued a warning to comply with county zoning codes or receive fines of $100 a day, up to $1,000.
"Part of our religious belief and faith is to help the poor. They're punishing us for doing what we feel we're commanded to according to our faith," Appling told WMDT.
At issue is that the church property is zoned as an agricultural residential district (AR), which allows for conditional use as a commercial recreational campground if special approval is given by the county. The RV for Simms, the third at the site, doesn't have such approval.
"It is possible to create a commercial recreational campground at the property with the proper approvals. The purpose of the approvals is to ensure that the health and safety of occupants of the campground, neighbors, and the public at large, is covered," Kia Evans, a county spokeswoman, told WBOC.
Victory Church and its neighbors are at odds over housing the homeless on the property. Earlier this year, the parish, in conjunction with the nonprofit Port Hope Delaware, began formulating plans for a Tiny Home Project in Dover. The village would consist of 15 tiny homes on four acres of land on the western half of Victory's property. Such projects have become a popular, if controversial, way to help the homeless. A vetting process, including a background check, would occur on each of the 15 residents, who would pay rent of $200-$300 a month, Sue Harris, one of two women who came up with the idea, told the Delaware State News.
The project ran into zoning issues with the county, as the land could be zoned for four residential homes, but the village would be considered high-density housing. On top of that, neighbors were vehemently against the plan, with at least one "no tiny houses" sign in every yard nearby.
"There is not one neighbor who's in favor of this idea," Tom Farrington, whose property backs up onto the church's, said. "Everyone here is already losing equity just because of the church and this village is only going to make it worse. Living next to this church is just a fiasco."
He told WMDT that his home has been broken into twice recently, and believes that homeless people from the church were involved.
Victory Church made its presence known at Dover City Council meetings in August and in September. In August, Appling brought about 100 homeless people and advocates to hear four people speak about the issue during an open forum before the meeting. In September, Appling held a vigil before the meeting for three homeless men who died over the summer. Two passed away due to a combination of heat and health issues, while the third was struck and dragged during an apparent hit-and-run incident, the Delaware News Journal reported.
Simms has faced struggles of her own with the local government. At the September meeting where the vigil was held, she pleaded her case before the city council to find housing through city and county organizations ‒ to no avail.
"It's not just me that's homeless. There's thousands of us and we want help. We're not contagious. We're human people and we're here," she told WBOC.
That's when she turned to Appling and Victory Church.
"After two weeks of us desperately trying to find her help, we created our own solution," Appling told the News Journal. "Any option we found or that was offered to us wasn't immediate and was at least a couple of months down the road. Alexis didn't have that long. We couldn't let her go back to living on the streets."
Appling is willing to work with the county over the zoning issue, but told the Delaware State News that applying to re-zone as a campground would be too expensive ‒ at least $100,000 between engineering requirements, attorney fees and more. Instead, church leaders are trying to change the laws so that the congregation can have more flexibility with its land. Once again, neighbors are against the plan.
"These people haven't told the truth about anything since they started," Flanigan told WMDT, referring to Appling and other church leaders. "The county gave them every opportunity to make things right and he didn't do it. And now he's complaining because they are finally putting their foot down."
For his part, Appling is hoping that the county will realize that one RV housing one family does not a campground make.
You can share this story on social media: