#MoralMondays' Day of Action protests call on politicians nationwide to help poor, minorities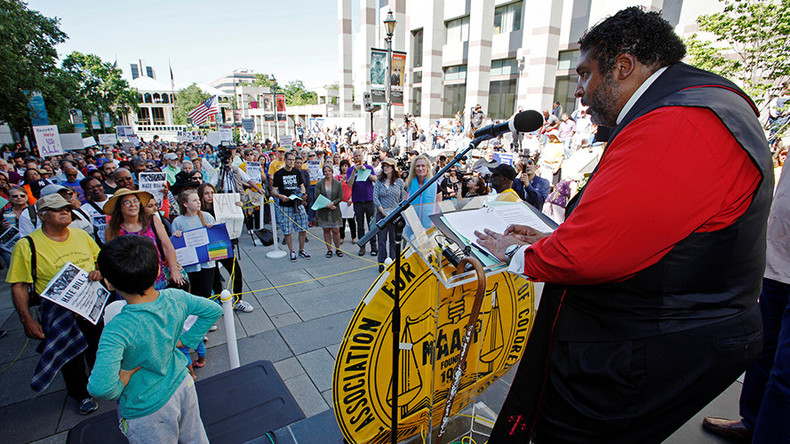 Protesters in 30 states and Washington, DC have taken part in a "Higher Ground Moral Day of Action" as part of the "Moral Monday" movement. They have called on federal and local lawmakers to create policies that help, not hurt, the poor and minorities.
The Higher Ground Moral Day of Action was planned by the Moral Revival, an organization of national and local progressive faith leaders. The group held rallies in the 31 locations, and then delivered its "Higher Ground Moral Declaration," which calls on politicians at all levels "to move away from extremist politics and policies that benefit the few and move toward policies and laws that are just and fair and guarantee a better life for the majority of the people."
The format of the rallies was the same in all 30 states that participated in the day of action, as well as the nation's capital. This included singing the same opening and closing songs, reciting the same litany and chanting the same lines.
The day of action coincides with the weekly "Moral Mondays," a protest movement that calls on politicians to create a "moral public policy framework" at the beginning of each week. The demonstrations are marked by civil disobedience, with protesters entering the state legislature to be peacefully arrested. The movement began in North Carolina in 2013, and spread to Georgia and South Carolina in 2014, followed by other states, including Illinois and New Mexico.
"Our goal is to support state-based fusion movements to combat extremism in state and national politics, and to be a catalyst for a resurgence of political activism in order to end poverty, racial inequalities, and the most pressing issues in our country," Moral Revival said on its website.
In North Carolina, where Doctor Reverend William Barber started Moral Mondays in 2013, more than 100 people joined clergy members on their march, WNCN reported. At the rally, Barber called on communities to vote for candidates who address the human side of politics.
"We are making a declaration and calling on all people of conscious who believe in these deep moral values to exercise their right to vote on the polls in November and beyond and call others to vote in massive waves," he said. Barber is also a co-leader of the Moral Revival.
In New Mexico, the rally focused on tax cuts for the wealthy and for corporations in the state, which is now considering $300 million to $500 million in budget cuts.
"Budgets are moral documents," Reverend Holly Beaumont, organizing director at Interfaith Worker Justice New Mexico, told Public News Service ahead of the demonstration. "The state budget is the best reflection of what our true values are, and the places they choose to fund, and the places they choose to cut."
Beaumont praised Barber's social justice work, comparing it to that of Dr. Martin Luther King Jr., whose words the North Carolinian quoted in the Higher Ground Moral Declaration.
"So what he's doing is helping us to turn this country back to its core values," she said, "to eliminate poverty and inequality, to make sure there's health care for everyone, to reclaim in many ways the whole concept of what morality is in this country."
New Hampshire was another state that participated, just one day before Granite State residents head to the polls. There, the Moral Monday movement became an outgrowth of the New Hampshire Voices of Faith group that began in 2011. The rally focused on policies in New Hampshire and around the US that have curtailed voting rights and made it harder for workers to get by.
"To decry all kinds of legislation which really harmed access to good jobs, addressing concerns about poverty, homelessness, etc, etc.," Reverend Gail Kinney with Meriden Congregational Church told Public News Service about the event.
New Hampshire Voices of Faith was formed in response to Tea Party lawmakers who succeeded in abolishing the state's minimum wage, which faith leaders found to be immoral.
"Many, many people that are continuing to struggle to, number one: re-establish a minimum wage, and establish something that is much more liberal," Kinney said. "People who are making $7, $8, $9, $10 or more simply can't make it in New Hampshire."
Unlike in other states, New Hampshire will wait to deliver the Higher Ground Moral Declaration until Wednesday, after Granite State residents have selected their nominees for governor and the US Congress, Kinney said.
In New York, three dozen clergy and people affected by the Empire State's policies regarding the poor, ill, children, immigrants, communities of color and religious minorities marched through Albany to the State Capitol. There, the group delivered the Higher Ground Moral Declaration to the offices of Governor Andrew Cuomo and leaders in the legislature, the Albany Times Union reported.
Leaders with the Moral Revival previously delivered the document to the Democratic and Republican National Committees, the group said.