Homeless in Los Angeles lose tiny houses to city cleanup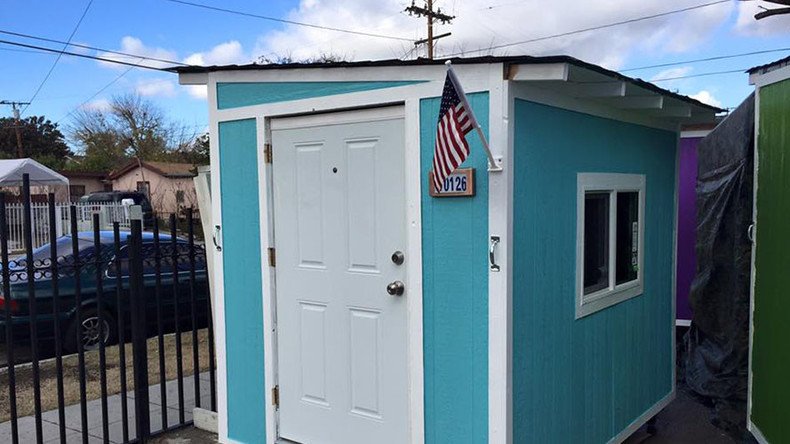 City officials in Los Angeles, California are seizing the miniature houses that a local man built and donated to give the homeless people in the city a place to sleep.
Elvis Summers created the parking space-sized houses last year as part of a charitable effort to help out the city's many homeless residents. The plywood shacks were fitted with innovations such as wheels and solar-powered lights, and mostly positioned on overpasses along the freeway, so that the homeless would have somewhere better than tents to sleep in.
"It hit me one day and I was like, 'why does nobody care?'" He told RT. After that he did some research and figured out that he could build homes himself.
However, the City of Los Angeles considers the compact buildings a blight. A new city ordinance calls the structures "bulky items" that are subject to immediate confiscation, according to the Los Angeles Times.
As part of an effort to clean up the streets and stamp out homeless encampments, the LA Bureau of Sanitation seized the houses. Summers himself was required to take away seven of them on Wednesday and Thursday.
"I just had to evict an elderly woman whose veteran husband is missing in the city," Summers told the LA Times. "It's really frustrating that I seem to be the only person actually doing something now to help people, and the city is still claiming that they are helping people when they are really not. They are wiping out camps all across the city."
Summers said he erected 37 tiny homes with $100,000 in donations in an online video campaign.
Councilman Curren Price says that the houses are disruptive to the South Los Angeles neighborhood that he represents.
"They're health and safety hazards. Not only for those who are occupying them but for citizens as well," he told RT.
Authorities found drug paraphernalia and a firearm in at least one of the houses seized during an earlier cleanup.
The miniature homes "can be hazardous to the individuals living in them and to the community at large," Connie Llanos, spokeswoman for LA Mayor Eric Garcetti, said in a statement.
READ MORE: 'Desperate situation': Majority of landlords refuse to let properties to homeless, survey reveals
Summers expressed his outrage in a video on the tiny house Facebook page, saying that he plans to take legal action.
"I will not quit and I will not turn my back on these people," he said. "I will still fight this all the way."
Marisol Viera, a member of Summers team, told RT "it's like they're foreclosing on the homeless. How can you foreclose on people who have nothing?"
There were over 12,000 chronically homeless people in Los Angeles city and county as of November 2015, more than anywhere else in the US.
You can share this story on social media: