'Desperate situation': Majority of landlords refuse to let properties to homeless, survey reveals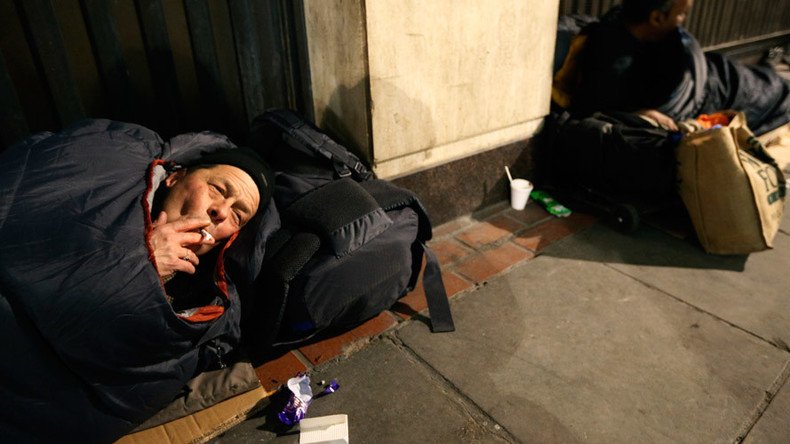 Changes to government benefits are making it harder for homeless people in the UK to find a place to live, with the majority of landlords in Britain refusing to let properties to people without a fixed address, research published on Thursday reveals.
In a survey of more than 800 landlords, social justice charity Crisis found that 82 percent were unwilling to let their properties to people without a fixed abode. The poll also revealed that two thirds of the respondents were dismissive of people receiving benefits such as Universal Credit.
Half of the landlords questioned said they were reluctant to rent to tenants because of caps on Local Housing Allowance, while a fifth said they increased the rental deposit when letting to homeless people.
Some 84 percent of local authorities said that it has become more difficult for single homeless people to access private renting over the past five years, according to the survey.
A major driver of landlords' refusal to rent to homeless people is the introduction of Universal Credit, a new benefit payment which is replacing housing benefit and Job Seeker's Allowance. Universal Credit is being brought out gradually across the country.
Whereas housing benefit is paid from the government directly to the landlord, Universal Credit is paid to the customer first – who is then entrusted to arrange rental payments.
Some 65 percent of landlords said they were more reluctant to let to homeless people who are on Universal Credit, while 55 percent said they were unwilling to let to tenants receiving housing benefit.
Crisis has launched a campaign called 'Home: No Less Will Do,' which is calling on the government to create a national rent deposit guarantee to help homeless people and fund projects that provide tenancy support to landlords and those who have no fixed abode.
Crisis chief executive Jon Sparkes said the survey shows homeless people are in a "desperate situation."
"In a competitive rental market, homeless people are increasingly left with fewer opportunities to rent, and many simply can't afford the upfront costs," he said.
"This is a desperate situation to be in: to be ready to move on and start rebuilding your life only to encounter financial barriers and closed doors."
Sparkes said that it is only fair the government helps homeless people, as it already assists first-time buyers through the Help to Buy scheme.
Residential Landlords Association policy director David Smith said more landlords would let to homeless people under a rent deposit scheme like that proposed by Crisis.
"The vast majority of landlords and tenants want the same thing – a stable, secure tenancy they can both rely on. It is expensive and time consuming for a landlord to find a new tenant and most landlords will do all they can to keep tenants in their homes rather than face an empty property. Many landlords would be much less reluctant to rent to people who were homeless if the risks could be better managed," he said.
"As this campaign rightly highlights, there is a pressing need for better resourced support for homeless people and their prospective landlords."
You can share this story on social media: