US concerned over Yemen war crimes complicity, issues no-bomb lists to Saudis - report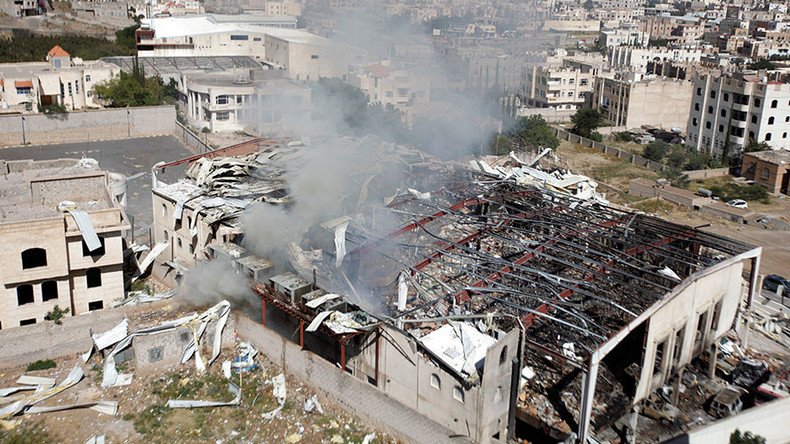 The Obama administration is worried about potential complicity in war crimes in Yemen and tried to curb civilian deaths by issuing 'no-bombing lists' for Saudi warplanes, Reuters reported. At least one bridge crucial for aid delivery was bombed despite being on such a list.
Saudi Arabia is responsible for 60 percent of about 3,800 civilian deaths in Yemen, according to a UN human rights office report published in August. Saudi warplanes targeted markets, hospitals, schools and other civilian targets, the report says.
The US supports the Saudi war effort by selling arms to the Saudis and providing refueling and logistical assistance. In November 2015 the US announced a $1.29 billion deal for precision munitions specifically meant to replenish Saudi stockpiles used in Yemen. In September 2016 the US Senate gave the go-ahead for a $1.15 billion sale of tanks and other military equipment to Saudi Arabia by blocking the bill opposing the controversial transaction.
Meanwhile, Washington is wary of potential complicity in war crimes and has been seeking ways to curb legal risks while not angering Riyadh after striking a nuclear deal with its regional nemesis Tehran, Reuters reported, citing sources and documents released through a Freedom of Information Act request. The documents date from mid-May 2015 to February 2016 and were heavily redacted, the agency reported.
One US official told Reuters that State Department lawyers "had their hair on fire" over the mounting loss of civilian life in Yemen and rights groups' claims that Washington could be complicit in war crimes.
Responding to the concerns of private human rights groups, a State Department specialist told them in an October 2015 meeting that the Saudis do not deliberately kill civilians.
"The strikes are not intentionally indiscriminate but rather result from a lack of Saudi experience with dropping munitions and firing missiles," the specialist said, according to a State Department account of the meeting.
"The lack of Saudi experience is compounded by the asymmetric situation on the ground where enemy militants are not wearing uniforms and are mixed with civilian populations," he said. "Weak intelligence likely further compounds the problem."
READ MORE: Yemen's starving children 'heart-breaking': UN urges end to conflict amid Saudi strikes

In late January 2016 Deputy Secretary of State Antony Blinken chaired a meeting with officials across the department in part to discuss "Options to limit US exposure to LOAC (Law of Armed Conflict) concerns," according to one of the emails obtained by the agency. LOAC refers to international law on proper warfare, which forbids deliberately targeting civilians and requires that belligerents try to minimize civilian casualties.
Among the measures taken was the dispatch of a US expert on mitigating damage, who would relay to the Saudis "no-strike lists" of targets to avoid. Those included crucial infrastructure such as water and power sites as well as facilities necessary for delivering humanitarian aid.
At least one such target on the lists, a bridge from the port of Hodeidah to the capital of Sanaa, was bombed and destroyed after ceasefire talks collapsed in August and Saudi Arabia resumed its campaign, the report said.
Saudi Arabia launched its operation in Yemen in March 2015 with the goal of restoring to power ousted President Abd-Rabbu Mansour Hadi, who was forced by Houthi rebels to flee to Riyadh after his term expired. Saudi Arabia says that the Houthi are backed by Iran.
You can share this story on social media: