Yemen's starving children 'heart-breaking': UN urges end to conflict amid Saudi strikes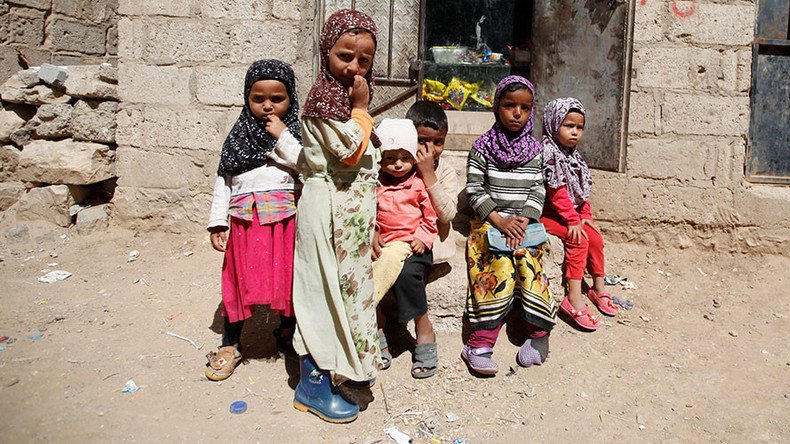 UN humanitarian aid chief Stephen O'Brien, who travelled to Yemen and was shocked by what he saw, has called on all parties in the conflict to give access to aid, as Yemenis are becoming poorer – and hungrier – by the day.
"The best humanitarian relief that can be provided is an end to the conflict. I urged the authorities, as I urge other parties to the conflict, to return to political negotiations without delay to reach a negotiated solution," Stephen O'Brien, who is also the UN Under-Secretary-General for Humanitarian Affairs, said in Sanaa, the Yemeni capital.
Four out of five Yemenis are in need of humanitarian assistance, the UN says. The UN World Food Programme says nearly half of Yemen's 22 provinces are on the verge of famine. However, the situation with children in Yemen is especially dire, it seems.
"My visit to Al Hudaydah hospital was heart-breaking," he said. "Mothers bring their malnourished children for treatment but there is simply not enough medicines to treat them. The quantities of food, medicine and fuel entering the country are way below the needs and must be increased as a matter of urgency."
There are some 370,000 children suffering from severe malnutrition that weakens their immune system, and 1.5 million more suffer from malnutrition, according to UNICEF. The effects of war can be seen in Thawra hospital, where parents come seeking help for their starving and dying children. In April, 10-20 children a month were taken there, and figure has increased almost tenfold over the past few months. The center now sees about 120 small patients per month.
Among the suffering children is Salem Issa, a six-year-old so weak he looks years younger and is now too ill to eat. "I used to feed him biscuits, but he's sick. He won't eat," the boy's mother said, as quoted by Reuters.
The UN delivers emergency food aid for four million people every month, O'Brien added, but they need to send even more.
"The UN and our humanitarian partners are ready to do so, but donors need to support resources mobilization efforts."
The Yemeni civil war started in 2015, and is basically a conflict between Houthi forces controlling the capital Sanaa and forces loyal to the ousted government of Abd Rabbuh Mansur Hadi. The latter are also backed by Saudi-led coalition forces, which blockade the rebel-held areas, worsening the starving Yemenis' plight.
Saudi Arabia is leading a military coalition consisting of nine Arab states that are participating in the Yemeni conflict. Their air campaign has often been accused of bombing civilian targets. The Saudis and their allies are trying to restore the Riyadh-backed government of the exiled Yemeni president.
A recent study by the Yemen Data Project concluded that in five of the last 18 months, the Saudi-led coalition hit more non-military in Yemen than military targets, and overall more than one-third of all strikes ended up hitting civilian targets, including hospitals, schools, and mosques.
In one of the latest attacks, at least 19 civilians were killed on September 21 when a Saudi-led coalition airstrike hit a house in western Yemen, Reuters reported, citing residents, medics, and a local official.
At the end of September, MSF [Doctors Without Borders] said in two new reports that Saudi Arabia has ignored the protected nature of medical facilities and demonstrated a total disregard for civilian life in Yemen, where it carries out indiscriminate and apparently intentional airstrikes on NGO-affiliated hospitals.
The overall casualty figure verified by UN human rights staff in Yemen from March 2015 to September 30, 2016 is now 10,963 civilian victims, of which 4,014 have been killed.
You can share this story on social media: