1,000s of Yemenis rally outside local UN office after deadly airstrike blamed on Saudi-led coalition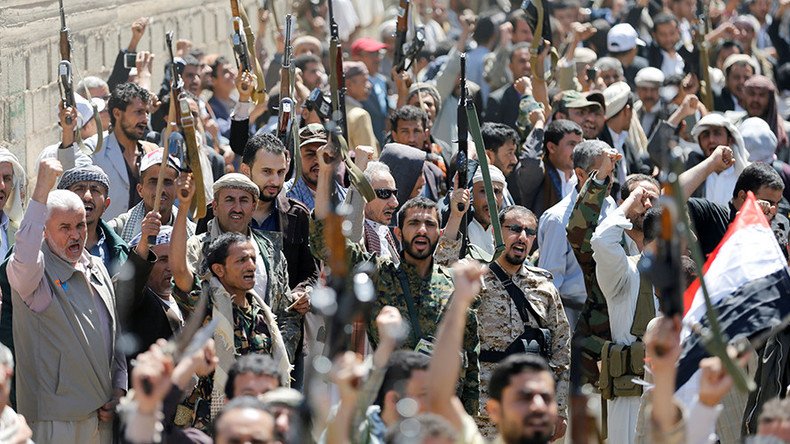 Tens of thousands of angry protesters, many of whom were armed, took to the streets of Yemen's capital, Sanaa, to protest an airstrike on a funeral ceremony that left over 150 dead and hundreds injured and call for an investigation.
Demonstrators at a massive rally called the 'Volcano of Rage' gathered outside the UN office in Sanaa.
Some of the protesters chanted "Allahu Akbar! America is the Great Satan!" while reportedly also shouting death threats directed at Saudi Arabia's rulers, according to AFP. The demonstration came a day after an airstrike reportedly targeted a funeral service in the Yemeni capital, killing more than 150 civilians and injuring over 525. In a statement cited by Saudi Press Agency, the Saudi-led coalition denied any role in the incident and vowed to carry out an internal investigation.
"After this massacre, we are more determined to confront the assailants," prominent rebel leader Mohammed Ali al-Huthi told the crowd, as quoted by AFP. "Open the fronts with the Saudi enemy immediately."
The attack was condemned by the UN's Secretary General, while White House National Security Council spokesman Ned Price said Washington was "deeply disturbed."
Russia's Foreign Ministry condemned the funeral attack and called for "the most thorough and objective investigation" that would bring the executors and organizers of the crime to justice.
A repeat of such tragedy can only be avoided "through the cessation of violence and the resumption of full-fledged political process, in which the Yemenis themselves determine its future without external interference," the ministry stressed.
UK Foreign Office minister Tobias Ellwood said he will raise concerns over the "shocking" incident with the Saudi ambassador in London.
"There can be no military solution to this conflict. We urge all sides to recommit to political talks and to implement a cessation of hostilities," Ellwood said.
"We heard the first blast when we were coming out. I saw people running, many of them in blood. Some of them had lost limbs. Everything was in blood. Dozens or hundreds of wounded. People rushed to help, to take the wounded to hospital, and then there was another strike. A man who attacks people aiding the wounded has neither conscience nor humanity. There were so many people. It's the biggest square in Sanaa, and it was full of people," a witness of the deadly attack told RT Arabic.
"There are a lot of people who knew someone who was inside, and overall inside the country, there has been an intensification of the violence – particularly in the frequency of the air strikes," Rima Kamal of the International Committee of the Red Cross, told RT by phone from Sanaa. "There is a need for humanitarian assistance, and it is bigger than what aid organizations can provide today."
Though the airstrike is said to be the deadliest attack on non-combatants in the months-long Saudi-led operation against Houthi rebels, it is not the first time Yemeni civilians have been targeted.
One of the deadliest attacks to date took place when the coalition's aircraft attacked a crowded marketplace in the northern Yemeni village of Mastaba in April. UNICEF put the death toll from that bombing airstrike at 119, including 22 children.
In August, at least 11 people were killed and 19 injured in an airstrike that hit a hospital in northwestern Hajjah province, according to Doctors Without Borders (MSF).
Earlier in the month, at least 10 children were killed and nearly 30 injured in a school in northwest Yemen, MSF reported. That strike was also blamed on the Saudi-led coalition.
The devastating funeral bombing has forced the US, Saudi Arabia's main arms supplier, to announce an "immediate" review of Washington's support for the kingdom.
Ned Price said on Sunday that a "troubling series of attacks striking Yemeni civilians" has prompted the US to rethink its stance.
"We have initiated an immediate review of our already significantly reduced support to the Saudi-led coalition and are prepared to adjust our support so as to better align with US principles, values and interests, including achieving an immediate and durable end to Yemen's tragic conflict," the statement said.
Tensions in Yemen spiraled out of control after President Ali Abdullah Saleh was deposed in 2012. In response, his Houthi supporters seized the capital city of Sanaa in 2014, before advancing to the south and seizing large parts of Yemen, forcing current Sunni President Abd-Rabbu Mansour Hadi to flee to Riyadh, where he requested help in being restored to power.
Saudi Arabia began its intervention in March of 2015 and is playing the biggest role in carrying out airstrikes on the rebels, with its Sunni Arab allies supporting the effort. Some Western nations, including the US, the UK, and France, have been contributing intelligence and weapons to the Saudi campaign.
International rights groups accuse the Saudi forces of carrying out indiscriminate attacks on civilian targets in Yemen, which amount to war crimes in the view of some. Riyadh denies the allegations, saying it has procedures in place to reduce the number of civilian casualties.
You can share this story on social media: